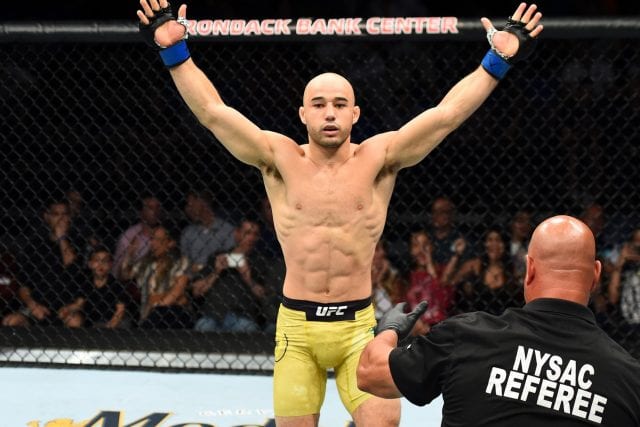 Bantamweight title contender Marlon Moraes isn't buying T.J Dillashaw's 'great guy' act and he doesn't think the fans were tricked either.
Moraes is more than happy to fight for the vacant bantamweight title at UFC 238 in Chicago later this year. However, "Magic" would prefer if people would stop looking at Dillashaw like a martyr.
"No (expletive) way," Moraes blurted Wednesday at the UFC Performance Institute (via MMAJunkie). "That's his move, and that's the part I don't like about the whole situation. He's trying to trick the fans and tell everybody he did this because he's a great guy and wants to see the division flowing. Of course not."
"He was away forever. He never said yes to fighting me, and he's just tricking the fans. But I think everybody saw that. He came up with a notice in the morning. He was just anticipating what the UFC and (U.S. Anti-Doping Agency) was going to do later on."
Don't get it twisted, Moraes still has a tremendous amount of respect for the former champion. In fact, the Brazilian was quick to point out that Dillashaw's skill set deteriorate because of a layoff.
"He's good everywhere, so people hate," Moraes said. "And everybody is saying this is just because he got caught. Ah, he's (expletive). Then win the championship and see if that's easy."
"He's one of the best in the world. I don't care what he says happened to him. Skills-wise, he's a very good fighter. And one day, we're going to meet."
For now, Moraes will have to settle for Henry Cejudo in a bantamweight title fight at UFC 238 in Chicago.
If you enjoyed this story, please share it on social media!