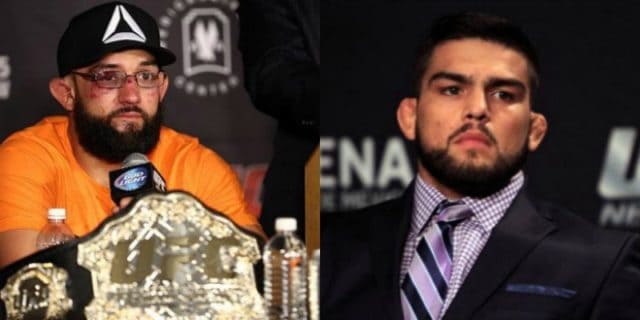 Former UFC welterweight champion Johny "Bigg Rigg" Hendricks and former The Ultimate Fighter (TUF) winner Kelvin Gastelum are set to face off at July 9's UFC 200 from Las Vegas, Nevada, but apparently it won't be the first time the two have locked horns. According to Hendricks, the two have sparred in the past, and the session didn't end well for Gastelum.
Recently speaking on MMA Junkie Radio, the 24-year-old Gastelum admitted that he was 'beat up' by Hendricks, but also claimed that it was during the peak of "Bigg Rigg's" title campaign:
"It's like, c'mon man," said Gastelum. "You beat me up when I was one fight removed from 'TUF,' and you were training to be a world champion."
Despite coming off of a loss, Gastelum feels as if he's improved over time, and the former TUF winner is comfortable being the underdog in what he calls the biggest fight of his life:
"I've been in this position before, where I feel so comfortable being the underdog and stepping up and taking out whoever's in front of me," added Gastelum. "So this, for me, this is the biggest fight of my life. I'm fighting a former champion, and I'm fighting on the biggest card ever."
"I kind of enjoy spoiling everybody's thoughts and statistics. I go in there and just do me and get my hand raised and prove everybody wrong? That's about as sweet as it gets for me."
It sure will be a tough test for the young contender come July 9th, but Hendricks will also be out to prove something, as the former champion is coming off of a brutal stoppage loss to Stephen "Wonderboy" Thompson last February.
If you enjoyed this story, please share it on social media!