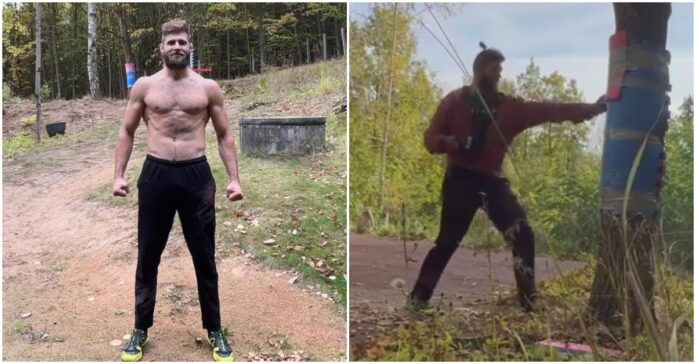 Jiri Prochazka has revealed the unusual way he gets ready for his fights.
The 29-year-old is one of the most ruthless fighters in MMA and appears to be next in line for a shot at the new light-heavyweight champion, Glover Teixeira.
Prochazka recently played the role of back-up for the UFC 267 title fight between Teixeira and Blachowicz. During his preparations for a potential championship bout that never came to fruition, Prochazka posted a video to social media that showed him repeatably hitting a tree.
During a recent appearance on The MMA Hour, Prochazka explained how practicing his shots in nature helps him in the gym and in his fights.
"It's good for the body to be in the technique to be like a rock," he explained. "Then I can go through the opponent's body with my technique, and my technique can be more dangerous. It's a good training for the body."
"After some 500 punches, then I go to the bag, and the bag is very easy, believe me," Prochazka added.
Jiri Prochazka's Quick Rise Through The UFC's Light-Heavyweight Division
The Czech fighter only joined the UFC in 2020 and just two fights later he is in line for a shot at the biggest prize in MMA.
Prochazka was widely regarded as one of the best 205lb fighters on the planet before he signed for the UFC. He secured big wins over the likes of Muhammad Lawal, CB Dolloway, Fabio Maldonado, and Vadim Nemkov before being signed to MMA's premier promotion. Prochazka also won and defended the RIZIN light-heavyweight title.
In his UFC debut, Prochakza faced former title challenger Volkan Oezdemir who was riding a two-fight winning streak into the bout and appeared to be primed for another shot at UFC gold. Prochazka was able to withstand the dangerous power punches of Oezdemir and scored a huge highlight-reel KO of his own.
It was a similar story when Prochazka made his second Octagon appearance against Dominick Reyes earlier this year. For large parts of the two-round fight 'Denis' beat on the former title challenger but he did have to survive one sticky spot to secure another highlight-reel finish, one that will surely be in the running for Knockout of the Year.
Do you think Jiri Prochazka should get the next light-heavyweight title shot?