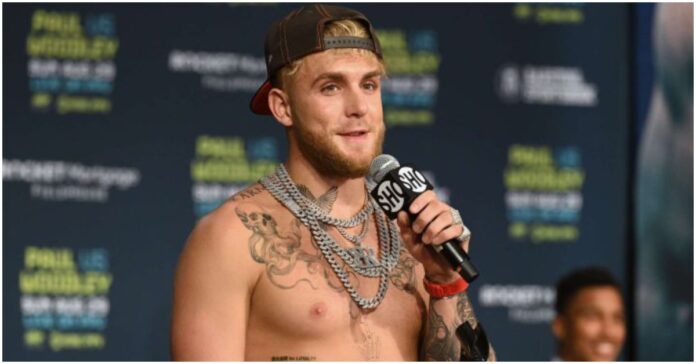 Jake Paul says he will "immediately retire from boxing" and fight Jorge Masvidal in the UFC if Dana White accepts his latest challenge.
'The Problem Child' took shots at the UFC boss throughout 2021 and it's seeming like he wants to keep that trend going in 2022.
Paul has often accused White of having a drug problem, prompting the MMA promoter to issue a challenge that involved both men being subject to random drug tests.
"I got a challenge for Jake Paul," White said on The FIGHT with Teddy Atlas. "This guy keeps saying that I'm a cokehead. He can randomly cocaine test me for the next 10 years if I can randomly steroid test him for the next two."
Jake Paul Issues Counter Proposal To Dana White
Paul says he is willing to submit to USADA testing and join the UFC for a fight with Masvidal if White makes a few changes to the way, he and his company do business.
"Happy new year @danawhite," Paul wrote on Twitter. "Here is a real challenge for you…I will immediately retire from boxing and fight Jorge Masvidal in the UFC if you agree to:
"1) Increase min fighter pay per fight to $50k (it's $12k now)
"2) Guarantee UFC fighters 50% of UFC annual revenues ($1bn in 2021)
"3) Provide long term healthcare to all fighters (you previously said brain damage is part of the gig…imagine the NFL said that). There are many UFC alums who have publicly said they are suffering from brain damage
"You have 5 days to accept and to implement the above by March 31, 2022. Once implemented I will immediately retire from boxing, enter USADA and agree to a 1 fight deal with UFC to fight weak chin Jorge.
"To all UFC fighters – time to take a stand and create value for yourselves and peers. You deserve higher pay, you deserve long term health and above all you deserve freedom. Support each other. I am not your enemy. I am your advocate…who selfishly wants to KO a few of you to make some big bank"
Do you think Dana White will accept this challenge issued by Jake Paul?