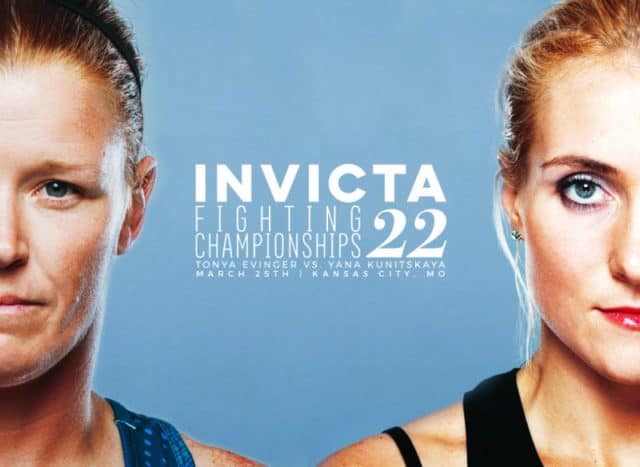 Invicta FC 22 officials held the weigh-ins for Invicta FC 22 on Friday and you can watch them here:
Invicta FC 22 takes place Saturday, March 25th from the historic Scottish Rite Temple in Kansas City, Mo. The event streams live and exclusively on UFC Fight Pass at 8 p.m. ET.
Tonya Evinger is scheduled to defend the Bantamweight Title against Yana Kunitskaya in the main event while Ayaka Hamasaki vs. Livia Renata Souza in a strawweight bout will serve as the co-main event. There is a total of eight bouts that are featured on this card.
Here are the weigh-in results:
Tonya Evinger (134.8) vs. Yana Kunitskaya (134.8)
Ayaka Hamasaki (115.7) vs. Livia Renata Souza (115)
DeAnna Bennett (117.6 *missed weight) vs. Jodie Esquibel (115.5)
Jiny Yu Frey (106) vs. Janaisa Morandin (111.2 *missed weight) – fight canceled
Amber Brown (105.9) vs. Ashley Cummins (105.6)
Sunna Davidsdottir (115.8) vs. Mallory Martin (114.8)
Kal Holliday Schwartz (115.9) vs. Miranda Maverick (120.5 * missed weight)
Felicia Spencer (146.0) vs. Madison McElhaney (146.0)
If you enjoyed this story, please share it on social media!