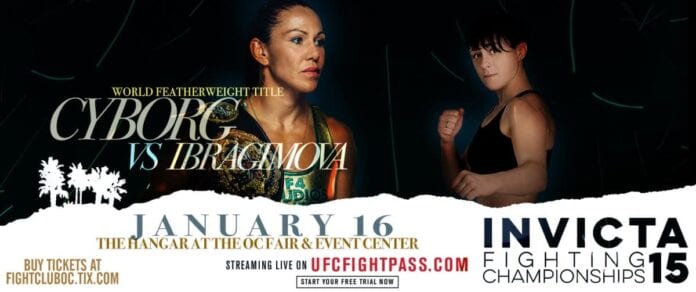 Invicta FC officials held the weigh-ins for Invicta FC 15 on Friday and you can watch them here:
Invicta FC 15 takes place from The Hangar at the OC Fair & Event Center in Costa Mesa on Saturday, Jan. 16. The event will stream live and exclusively on UFC Fight Pass beginning at 9 p.m. ET.
Invicta FC 15 will be headlined by featherweight champion Cristiane "Cyborg" Justino (14-1, 1 NC), who will put her belt on the line against Russian newcomer Daria Ibragimova (9-1). In the co-main event, the strawweight title will be up for grabs between champion Livia Renata Souza (8-0) and fellow unbeaten DeAnna Bennett (8-0).
Here are the weigh-in results:
Cris Cyborg (144.6) vs. Daria Ibragimova (143.7)
Livia Renata Souza (113.9) vs. DeAnna Bennett (114.6)
Amber Brown (105.7) vs. Shino VanHoose (105.3)
Colleen Schneider (136.4*) vs. Raquel Pa'aluhi (135.5)
Angela Hill (115.1) vs. Alida Gray (115.9)
Lacey Schuckman (114.9) vs. Mizuki Inoue (114.3)
Megan Anderson (145.3) vs. Amber Leibrock (145.7)