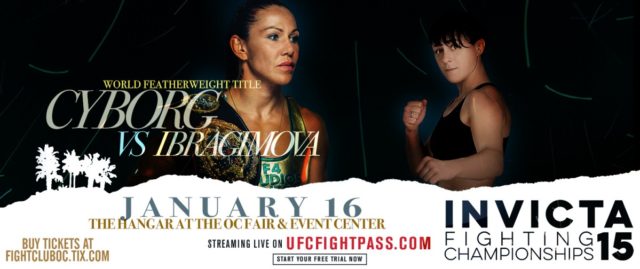 Invicta FC officials held the weigh-ins for Invicta FC 15 on Friday and you can watch them here:
Invicta FC 15 takes place from The Hangar at the OC Fair & Event Center in Costa Mesa on Saturday, Jan. 16. The event will stream live and exclusively on UFC Fight Pass beginning at 9 p.m. ET.
Invicta FC 15 will be headlined by featherweight champion Cristiane "Cyborg" Justino (14-1, 1 NC), who will put her belt on the line against Russian newcomer Daria Ibragimova (9-1). In the co-main event, the strawweight title will be up for grabs between champion Livia Renata Souza (8-0) and fellow unbeaten DeAnna Bennett (8-0).
Here are the weigh-in results:
Cris Cyborg (144.6) vs. Daria Ibragimova (143.7)
Livia Renata Souza (113.9) vs. DeAnna Bennett (114.6)
Amber Brown (105.7) vs. Shino VanHoose (105.3)
Colleen Schneider (136.4*) vs. Raquel Pa'aluhi (135.5)
Angela Hill (115.1) vs. Alida Gray (115.9)
Lacey Schuckman (114.9) vs. Mizuki Inoue (114.3)
Megan Anderson (145.3) vs. Amber Leibrock (145.7)
If you enjoyed this story, please share it on social media!