Gilbert Burns wants to see a double knockout between Khamzat Chimaev and Paulo Costa at UFC 294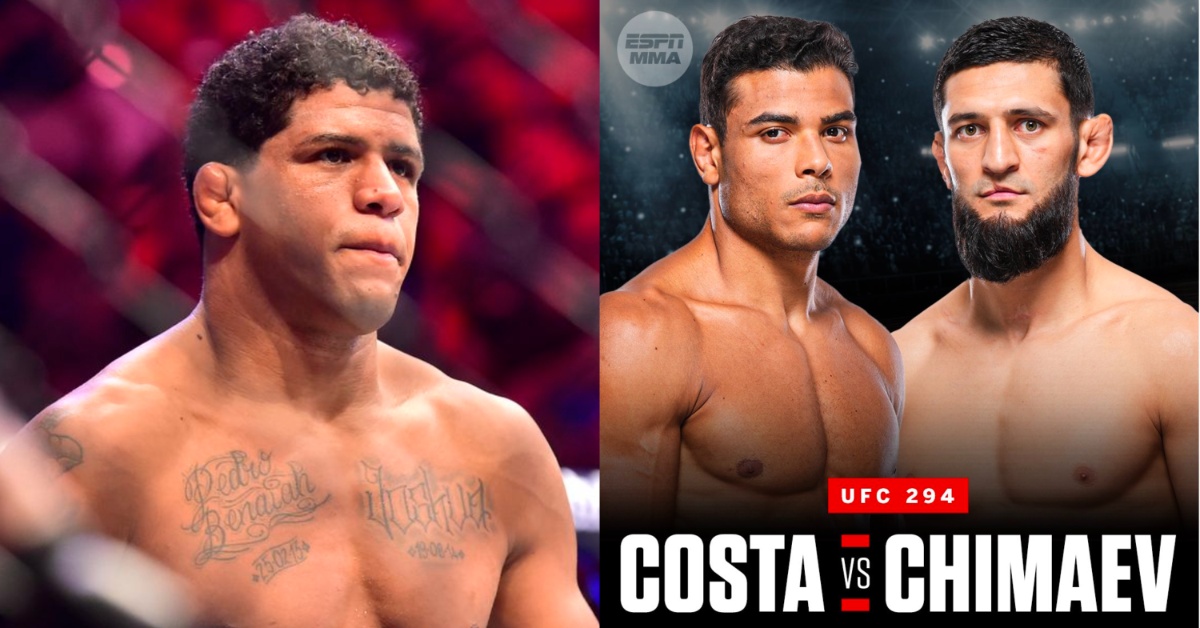 Gilbert Burns doesn't see Paulo Costa giving Khamzat Chimaev much more of a challenge than he himself did last year.
On October 21, Costa and Chimaev will make their respective returns to the Octagon after more than a year on the shelf. Emanating from Etihiad Arena in Abu Dhabi, UFC 294 will feature a stacked night of fights, but few are more intriguing than the middleweight matchup pitting an undefeated Chechen monster against the one-time title challenger.
Chimaev goes into the contest on the cusp of his first title opportunity, but if Costa manages to score what many would consider to be an upset, he could walk straight into his second crack at UFC gold.
Gilbert Burns doesn't see that happening.
Stepping inside the Octagon with Chimaev at UFC 273, Burns gave 'Borz' the toughest test of his career thus far, but it still wasn't enough as the Chechen came out on top via a unanimous decision. Speaking with Mike Owens in a MiddleEasy exclusive interview, 'Durinho' suggested that Costa doesn't have the heart needed to survive the kind of onslaught that Chimaev brings to his opponents.
"He's a big guy, but I don't think he has the heart that I have," Burns said. "I don't think he has the jiu-jitsu that I have. He doesn't have the get-ups that I have. He doesn't have the submission threat that I have that makes Khamzat not want to grapple.
"He's a very strong and big guy, but if I had to guess – and I don't like both of these guys, a double knockout would be the best result – but it's a 50-50 fight," Burns added. "If Khamzat is able to take him down, it'll be a hard night for Costa. If Costa is able to defend the takedown, it'll be a hard night for Khamzat."
While we wouldn't put any money on a double knockout finish, it has happened before. During the Ultimate Fighter 5 finale in 2007, Gray Maynard and Robert Emerson were both unable to continue their contest following an attempted takedown from Maynard. Lifting up Emerson during a double leg, Maynard slammed his opponent back down to the canvas, instantly breaking Emerson's ribs and causing him to tap out immediately. However, Maynard knocked himself out in the process by hitting his head on the canvas. The bout was ruled a no contest as both men were unable to continue.
So, never say never.