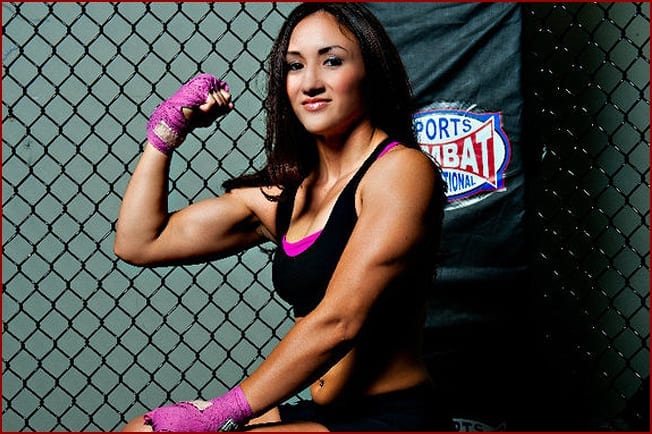 It seems as though former UFC strawweight champion Carla Esparza is in a bit of financial trouble.
The Ultimate Fighter Season 20 (TUF 20) winner announced via Instagram that she is selling the 2015 Harley-Davidson motorcycle that she won from the show in order to 'make ends meet', as she only has enough money to pay two months worth of bills.
If anyone is interested, I am selling my 2015 Harley Breakout that I won on The Ultimate Fighter 20 "A Champion Will be Crowned". Brand new (bc of my shoulder surgery), purchase price was $19,799. Going with highest bid OBO.
It's very unfortunate that I am selling this bike not because I want to, but because I HAVE to in order to make ends meet. After having a year off from shoulder surgery (injury obtained at UFC 185), taking a short notice fight, and then 8 months since that fight, I literally have enough in my bank account to pay for 2 more months of bills.

I need to fight and have been asking for a fight for so long, multiple times a week. I know I can make my run again but I also know that after being off for so long that I'm not ready to fight a title contention fight right away and all I'm being offered is the #1 contender (whom I've accepted and been scheduled to fight 2x in the past). I'm 100% down for that fight. I just asked for just one non-title contention fight with an actual camp after having so much time off from injury and the result is being benched for 8 months and still no word of a fight, not even a whisper. I'm at a loss of what to do. When I make my run, my intention is to WIN not because I'm being forced to when I'm not ready.
Just frustrated and sad 🙁 if anyone is interested in buying my Harley or knows someone that might please contact me at [email protected]
The inaugural UFC strawweight champion lost her title to the now-champ Joanna Jędrzejczyk back in March of 2015 via a brutal second round knockout, and made her return to the Octagon with a dominant unanimous decision win over Julianna Lima at UFC 197 this past April.
With the former UFC champ's current financial struggles now getting worse, Esparza is desperate to get back inside the Octagon to collect another paycheck.