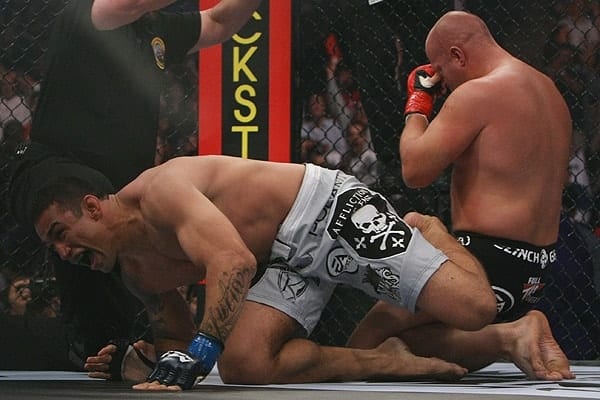 UFC interim heavyweight champion Fabricio Werdum has spent many years at the elite level in MMA (mixed martial arts) but hass only truly broken on to the big stage in the last five years. Now, at the age of 37 and after 13 years in the sport, 'Vai Cavalo' gets the chance at undisputed glory as he is set to face Cain Velasquez at UFC 188 this Saturday (June 13th, 2015) in Mexico. Werdum carries a five-fight win streak in to the championship match.
It hasn't all been roses for the Brazilian grappler during his storied MMA career in Strikeforce, Pride FC and the UFC. There was a point not too long ago that 'Vai Cavalo' considered calling it a day, as he tells MMAFighting.com:
"I thought about stopping fighting a few times, after some losses and contract disputes when I moved to the United States. It's a tough life," he said. "I considered accepting Fedor Emelianenko's offer and rematch him in Russia. I wanted an extra million dollars to do it, but they declined. My idea was to fight him again and then retire."
"I don't think about leaving the sport anymore, but I do think about retiring," he said. "I'm 37 now. I think about offering a rematch to Cain Velasquez after I beat him, and then retire."
Werdum's landmark win over Fedor Emelianenko in 2010 is pretty much what led him back to the UFC and on to his dominant recent form, that and his evolution in striking while training with Rafael Cordeiro at Kings MMA. Perhaps things could have been very different had he fought 'The Last Emperor' for a second time, and perhaps even lost? Werdum now faces the most dominant heavyweight fighter of the current era, much as he did when facing off against the Russian machine five years back.
The similarities end there, as Werdum predicts Velasquez will gas out deep in to the fight:
"I expect a different win. I want to surprise the entire world one more time, especially the doubters. It won't be easy, though," said Werdum, who sees Velasquez "100 percent physically, but not 100 percent mentally" ahead of UFC 188.
"In a perfect world, I see him trying to take me down. I land a front kick to the body or his face, or I submit him quickly after he takes me down," he added. "In a more realistic scenario, I see him gassing after three or four rounds. People will be surprised. They are used to watching Velasquez with that non-stop rhythm, but he's not used with high-altitude and hasn't fought in two years. We'll see."
There were many doubters before Werdum's clash with Fedor under the now defunct Strikeforce banner, and he is once again a massive underdog in his bout with the Mexican heavyweight champion. His statement about Velasquez gassing is interesting, given that the AKA (American Kickboxing Academy) boss is renowned for his outstanding endurance. His Brazilian foe isn't the first to blast him in the media this week, although Ben Rothwell's accusation was a little more spiteful.
Do you think Werdum will outlast Velasquez in a battle of attrition, or will Javier Mendez's prediction prove more accurate?