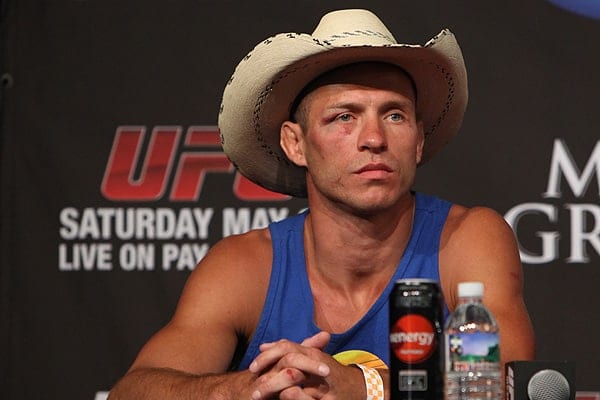 UFC lightweight Donald Cerrone has been very active during his four-year run for the promotion, racking up an impressive 15-3 record, with a live eight-fight win streak. Fighting three times in 2015 already, it looks like 'Cowboy' is truly a company man, and it's led to a rematch with current champion Rafael Dos Anjos being widely talked about. Cerrone lost to RDA in 2013, dropping a unanimous decision in a somewhat surprising upset. The Greg Jackson's MMA product has said he isn't interested in waiting for Dos Anjos and a title shot, and vocalized his intrigue in a bout with Michael Johnson.
So why has the WEC (world extreme cagefighting) veteran been so keen to fight frequently? He tells FOX Sports that it's all to pay off the tax man:
"I've been taking those fights just to pay my taxes off, that's what people don't understand," he revealed.
"They give us this big chunk of money and then idiots like me spend it all. Then they tell me, 'wait, you have to pay us our set.' Then, I have to go fight again so I can pay them. (laughs)"
Along with the controversial UFC-Reebok deal, it seems that making money is becoming harder for fighters in the UFC. The taxes, paying off cornermen, and even transport costs whittle away at the purses of already underpaid fighters like Cerrone, although his bonus-winning style creates a bit of a buffer. With his most recent win a TKO over John Makdessi at UFC 187, Cerrone is next in line for a shot at the belt even if he doesn't want to wait. But the streaking 35-fight veteran says the strap itself holds no weight with him:
"Yeah, as soon as I win it, because it don't mean nothing to me, I'm going to launch it inside the RV and go about my business," the always cool Cerrone said.
"So, that's what's going to happen with that. That belt don't really mean much to me. Being first would be cool but the belt – I don't care, man. And then I'm going to turn around and say, 'let's go…let's fight as many times as we can.'"
So there you have it; Donald Cerrone wants that money to pay the tax man, and ride off in to the sunset with his RV. The belt doesn't mean much to him, but he wants to be the number one fighter, and get paid as such. Will he be able to win the evasive title that has been just out of reach during his nine-year MMA career, or will the 'Cowboy' have to dust himself off again with the last man to beat him currently holding the belt?