Former UFC lightweight title challenger Donald "Cowboy" Cerrone experienced quite a bit of success after moving up to 170 pounds in early 2016, scoring four consecutive stoppage victories over the likes of Alex Oliveira, Patrick Cote, Rick Story and Matt Brown. His momentum came to a screeching halt earlier this year, however, when he was finished by Jorge Masvidal at UFC on FOX 23 in his hometown of Denver, Colorado this past January.
Now, Cerrone will have the chance to bounce back in a blockbuster fight, as he's set to meet former welterweight champion "Ruthless" Robbie Lawler at UFC 213 on July 8, 2016 in Las Vegas, Nevada during International Fight Week. Like Cerrone, Lawler is coming off of a disappointing loss as well, as he hasn't competed since surrendering his title in brutal fashion to Tyron Woodley at UFC 201 last July.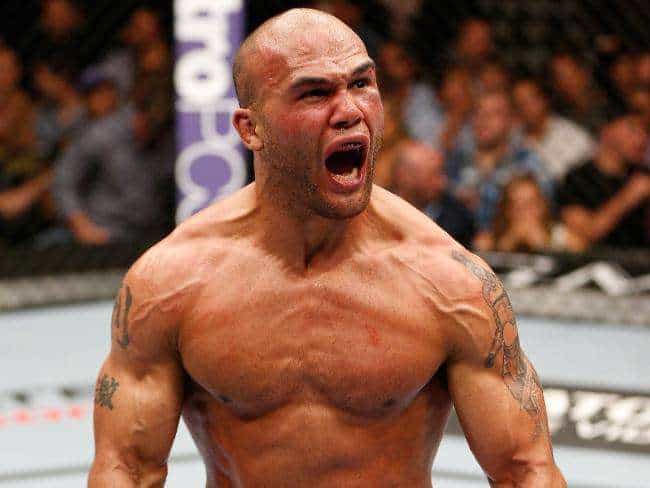 Despite both men recently experiencing setbacks, Cerrone feels as if the fight sells itself:
"I don't think you have to gas us up," Cerrone told MMA Junkie Wednesday during a media luncheon. "We're already full tanks, man."
While the fight could certainly hold major implications for both men, "Cowboy" isn't looking at that way. Instead, he expressed his excitement for the upcoming contest, saying there's no place he'd rather be than in the cage across from the "Ruthless" one:
"Robbie is old school, been around forever. And so have I. Somebody's going to lose. But I don't think Robbie looks at it like that; neither do I," Cerrone said. "I don't go in there like, '(Expletive) I have to win. My career.' … I'm going to fight, to fight one of the best brawlers, going to stand up, (expletive) throw down, and put on a show. This fight is for me. This is what I love. There's no place I'd rather be than in that mother(expletive). And then throwing down with one of the greatest? C'mon, I'm loving it – every minute of it."
The fight has a serious chance to produce fireworks as both men tend to engage in slug fights and Cerrone even feels as if it could turn out to be a 'Fight of the Year' contender. It's a fight, in his opinion, that no fight fan should miss:
"Oh, for sure. In my mind it already is," Cerrone said. "'Fight of the Everything.' Fight of my life. Can't wait, man. I'm (expletive) pumped. It's going to be exciting. I don't even know why I need to keep selling this fight. If you're not a (expletive) MMA fan and watching this fight, then (expletive) you. That's all I've got to say."
UFC 213 is currently expected to be headlined by a bantamweight grudge match between 135-pound king Cody Garbrandt and former titleholder TJ Dillashaw, although a back injury to "No Love" has put the bout in jeopardy. Women's bantamweight champion Amanda Nunes is also set to defend her title on the card, taking on surging contender Valentina Shevchenko in a rematch of their UFC 196 bout last March.
Which UFC 213 fight are you most excited for?