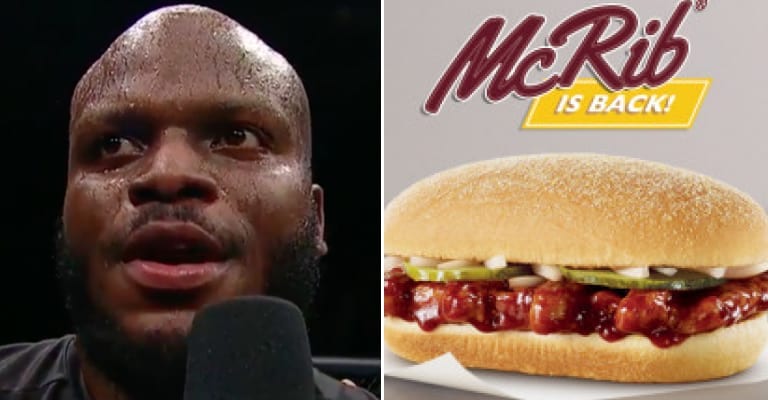 For a top-level fighter, Derrick Lewis is just now starting to take his dieting seriously.
Leading into the biggest fight in his UFC career against former heavyweight champion Fabricio Werdum at this weekend's (Sat., October 7, 2017) UFC 216 from the T-Mobile Arena in Las Vegas, Nevada, Lewis has made some crucial adjustments to his eating habits.
It starts with no more McRibs or Carl's Jr.
Lewis revealed his first-ever attempt at dieting to FloCombat in the days leading into his showdown with "Vai Cavalo", drawing on his cardio issues in his most recent loss to Mark Hunt:
"I was still eating fried chicken, hamburgers, all of that fight week," Lewis said. "The day of the fight, I've stayed eating the same way my whole career. Now I'm going to see how I feel however I get in there to see what the difference is to see what all the fuss is about.

"My mouth is watering right now thinking about some Carl's Jr. I'm starving right now," Lewis said. "You eat salad and you're hungry the next 30 minutes and you're hungrier from when you ate the damn salad. That's what I don't like about it.

"The damn McRib was in town. I had to miss the McRib and all the other things. My favorite restaurant had a special going on and I couldn't even eat it. Somebody's gotta pay."
Lewis faded badly against Hunt as the rounds went on, ultimately succumbing to punches in the fourth round of their June matchup.
Now preparing for what amounts to be his biggest challenge thus far in Werdum, Lewis plans on punishing the man who has kept him from his beloved McRib.

Lewis (18-5-1) and Werdum (21-7-1) will collide on the main card of UFC 216 on Saturday night.