Daniel Cormier Goes Off On Jon Jones' Latest Callout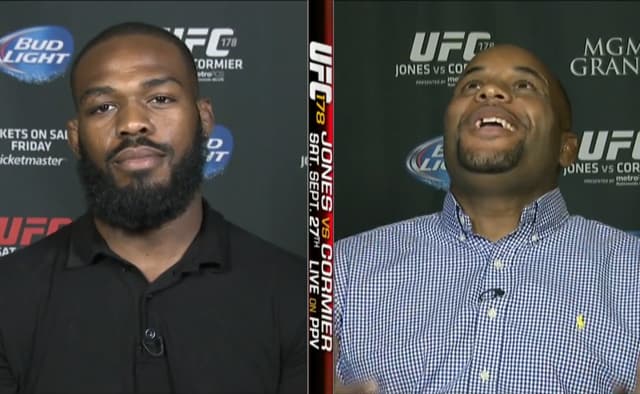 It's hardly a surprise that Daniel Cormier goes off on Jon Jones' latest callout.
The currently suspended former champion recently revealed he wanted to fight Cormier two more times in an interview with RT Sport. The longtime rivals have fought twice. Jones won both bouts, outlasting Cormier by decision at UFC 182 and knocking him out at UFC 214 in summer 2017.
But the legendary and troubled champion was then suspended for failing a pre-fight drug screen. Jones has been on the sidelines awaiting his punishment from USADA ever since. He seems to believe it won't be much of one, conducting several interviews and teasing potential returns online in recent months.
One of his obvious goals would be to beat Cormier, who now owns the heavyweight and light heavyweight titles, a third time. Cormier isn't so keen about those plans. The aging champ-champ is planning on fighting Brock Lesnar early next year, and may or may not face "Bones" again. "DC" fired back at Jones' goals by stating the facts that "Bones" had failed three drug tests:
Big goals for a guy that could only achieve them after he finishes getting disciplined for his 3rd drug failure! I mean jeez this guy #Cheater https://t.co/Kfuki7qRCM

— Daniel Cormier (@dc_mma) September 4, 2018
Jones soon fired back himself. He teased Cormier by asking him if his lofty goals had 'offended' him:
Does my big goal somehow offend you? Why the need for name calling😩

— BONY (@JonnyBones) September 4, 2018
A Better Strategy
Jones then denied that any PED had helped him knock out "DC" when they fought last. He attributed the then-historic win to a better gameplan:
I set you up with several attacks to your body, you begin to protect your belly so I kicked you in your head. but you're right somehow a steroid metabolite right before the fight made me smarter. You're the champ champ, I'll stop dreaming now

— BONY (@JonnyBones) September 4, 2018
Steroids may not have been the cause of Jones' scintillating win over Cormier last year. They definitely weren't the sole cause.
However, the fact remains that Jones has failed three drug tests like Cormier stated – two for PEDs and one for cocaine metabolites. It's hard to argue that Jones wouldn't be the most decorated fighter in MMA history without them. But the uber-talented would-be great still seems to be content pointing the finger at anyone but himself.
It's worked for him before. He could definitely be headed for an umpteenth comeback soon. But how long will that last?