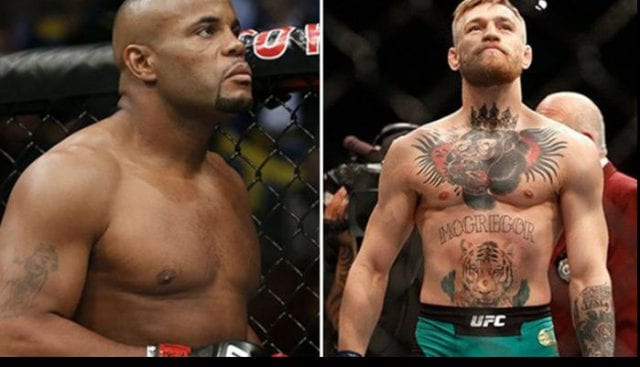 Daniel Cormier explains why there should not be a rematch between Conor McGregor and Khabib Nurmagomedov anytime soon.
Background
It should be noted that Cormier is a Nurmagomedov teammate at American Kickboxing Academy and needs to be taken into consideration when reading and understanding the words of DC.
Khabib made his first successful title defense as UFC lightweight champion. He did just that in the main event of UFC 229 pay-per-view event at T-Mobile Arena in Las Vegas, Nevada.
The UFC heavyweight champion gave his take on this fight during a recent interview with MMA Fighting.
"He really did a good job, and that's why if you're Team McGregor, there's cause for concern, because I don't know if he could do that any better and he still got beat in the way that he got beat. That's why, I think if you're Team McGregor, you'd be concerned about a fight with Nurmagomedov, because I don't think he could defend any better," Cormier continued (transcript courtesy of MMAMania).
Daniel Cormier Explains
DC stated that he doesn't think McGregor could do a better job in a rematch and that impacts the possibility of a second fight.
"I thought was as good as [he could do], because he did a good job and I don't know if he could do it any better … because then [Nurmagomedov] is going to go to level five, and he going to go to level six, and he's going to just keep putting different things behind each other until eventually you kinda can't keep up. That's what Henry Cejudo does. That's what he did to DJ a couple times to get those takedowns."
Understanding
Cormier also brought up how he understands where Khabib was coming from in his intentions during the post-fight brawl.
"I think, Conor, he was building a fight, and there was just a little bit of a difference in the approach," Cormier said.
His Own Experience
The reason for that is due to his own history as he has bad blood with his own arch-rival, former UFC light heavyweight champion Jon Jones.
"When he was building the fight and kinda going home going, 'Okay, yeah, I think that might've gotten him a little bit,' or, 'that got under his skin,' the whole time it's causing this guy (Nurmagomedov) to just go, 'God, I hate him. Man, I can't stand this dude. I want to hurt him,' then going back to the gym and training harder and more. So, that's where the difference lies. It's like, we (Jones and I) never regretted anything we said to each other or about each other, and it was okay if it just continued to escalate."
If you enjoyed this story, please share it on social media!