Daniel Cormier has made UFC history.
In the main event of UFC 226 this past weekend (Sat. July 7, 2018) "DC" knocked out Stipe Miocic in the first round to win the UFC heavyweight title. Already having the UFC's light heavyweight throne in his grasp, Cormier is now the second man in the promotion's history to hold two titles in different weight classes simultaneously.
Cormier joined The MMA Hour with Luke Thomas earlier this week to talk about the momentous occasion (via MMA Fighting):
"It means everything, man," Cormier said. "For a guy who was almost, like, right on the cusp but never was able to push through, if you just keep trying, man, and just keep working, keep getting better, keep pushing for goal after goal after goal — if you fail at something … just keep trying and keep giving yourself opportunities to do something special, and I did that and did that and did that, and eventually I got it done. It's an amazing feeling."
After the win Cormier was confronted inside the Octagon by WWE mega-star and former UFC heavyweight champion Brock Lesnar. After a WWE-esk shoving match and promo exchange, it was announced the two would be meeting for the heavyweight championship next.
Many mixed martial arts (MMA) purists argue that the moment ruined what was an incredible night for the former Olympian, but Cormier, a longtime professional wrestling fan, thinks that couldn't be further from the truth:
"Not at all, it didn't ruin my night," Cormier said. "It made it even better. If not for anything, if I was a guy who just wanted that type of moment, that would've been OK, but how did it ruin my moment? When I won the belt the first time, the first thing I did was yell at Jon Jones to get his stuff together, set up my next fight.

"This fight with Brock Lesnar, I told him to get in the Octagon, and it set up my next fight. How did it ruin my moment? It doesn't change the fact that I got to win the UFC heavyweight title. They've got this great image of me sitting on top of the cage floating around right now. I don't understand how that would've ruined my moment."
Cormier joked that Lesnar shoving him actually gave him some insight into what kind of freakish strength he'll be up against when they meet inside the Octagon down the road:
"He's very strong," Cormier said. "He pushed me and I went falling back, and then when he got close, I pushed him back but I barely moved him. I'm like, gosh, I should've pushed him so much harder. I was like, why would I push him so soft?

"Am I like kind of scared of Brock Lesnar? Like, why didn't I push him a lot harder than I did? But he's going to get his. He's going to get his."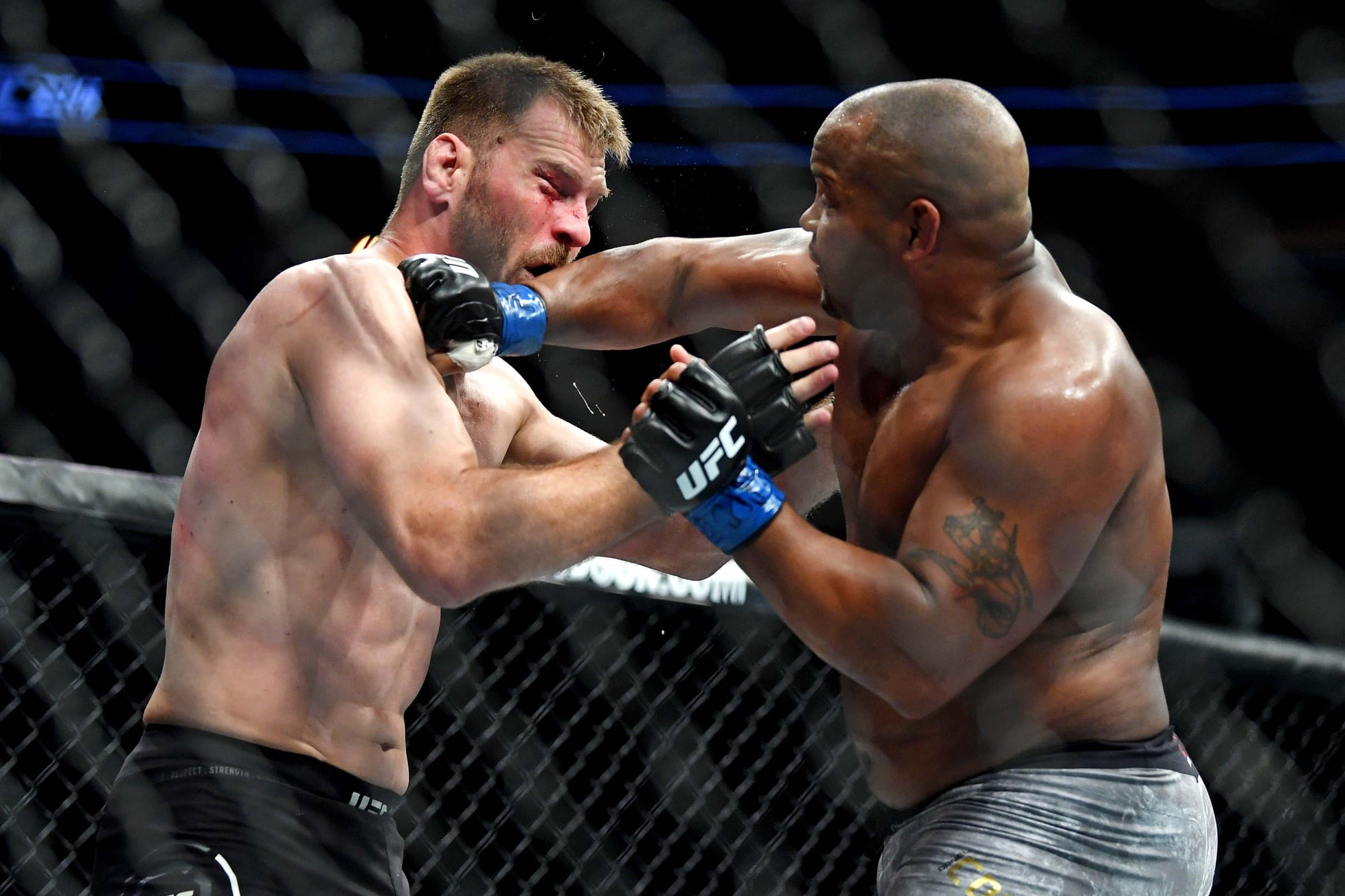 "DC's" cut down to 205 pounds is usually a strenuous one that takes a lot out of the division king. Despite the grueling cut, Cormier more often than not dominates his opposition inside the Octagon. This time around, competing at heavyweight, Cormier was able to focus on his technique rather than having to cut weight.
As a result, Cormier felt amazing come fight night and actually felt faster when he begun throwing hands with Miocic:
"I felt like I was faster," Cormier said, "because at 205, I think my speed, it doesn't jump out at you as much because all of these guys that I fight are pretty fast. So I think I felt faster, I think I felt faster at heavyweight, and then just not having to do that weight cut, it makes such a big deal, man. That weight cut can really, really — it can really brutalize you.

"[Without the weight cut] I was so excited, man. I was in the back trying to contain myself. Like, how do I stay the course and not put myself in the fight too early, because without having to worry about the weight management, now I have all this time to think about the fight, and I do a lot of visualization and stuff.

"So it's like, when I visualize, I'm like, 'Wow, I could go and just fight right now. I don't have to cut any weight. How do I monitor myself and manage my energy in regards to the fight?' I can't get too excited, so I was really trying to peel myself back a lot. I was trying to peel myself back a lot when it came to thinking about the fight."