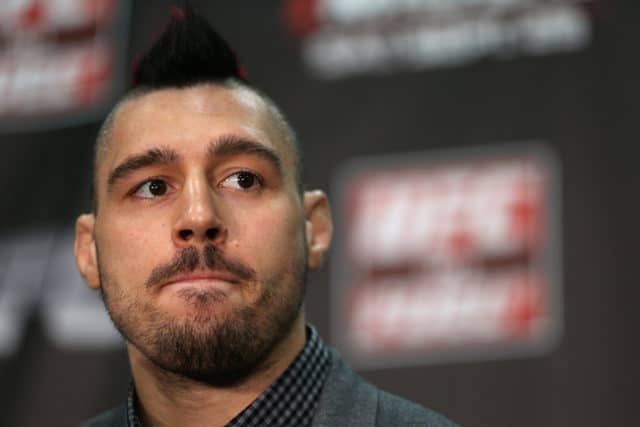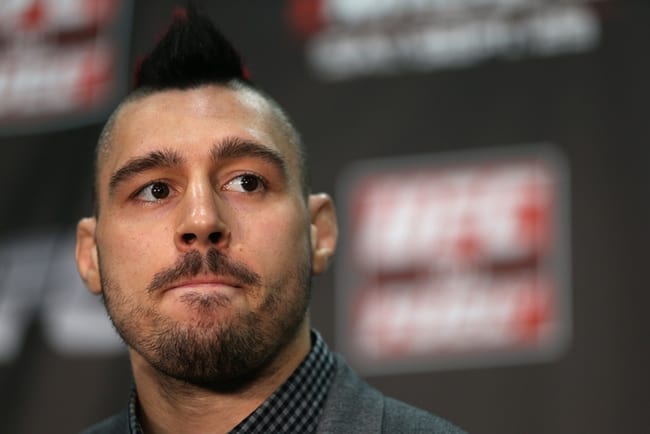 Former UFC welterweight title challenger Dan Hardy isn't worried about any legal beef with Bellator MMA.
Earlier last month (Sat. January 21, 2017) Bellator 170 played host to a colossal main event between former UFC light heavyweight champion Tito Ortiz and Chael Sonnen. The fight between the two lasted just over two minutes as Ortiz submitted 'The Bad Guy' via rear-naked choke, however, many began questioning the fight's authenticity as it looked rather rehearsed.
One man who shared those sympathies was Hardy, who took to Twitter to accuse the fight of being 'fixed', sparking a legal threat from promotion President Scott Coker. Hardy got the opportunity to respond to those threats during an appearance at Cage Warriors 80 in London this weekend (quotes via MMA Junkie), to which he simply laughed off Coker's comments:
"There's been nothing," he said. "I made my stance clear. I put out a very flippant tweet. Sometimes I forget I'm a UFC analyst, and I think I'm just an MMA fan, and my first gut instinct is just to put out something stupid and kind of funny to get a reaction.

"I was disappointed in Chael's performance. That was the bottom line. And I went on Ariel (Helwani)'s show, I went on a few others and discussed it, and made my point clear."
Hardy stated that his true disappointment in the contest lied with Sonnen, who he doesn't believe showed up to fight that night. He also was disappointed for Ortiz who didn't get the chance to test himself against the best possible version of Sonnen inside the cage:
"I think Bellator (officials) know that I wasn't attacking them directly," Hardy said. "I don't think they had any kind of involvement. Personally the onus falls on Chael because he just didn't show up to fight, in my opinion.

"And I was disappointed for Tito, as well. Obviously he got the win that he wanted, but I think he was disappointed that Chael didn't give him the fight he'd showed up for. Tito looked in great shape."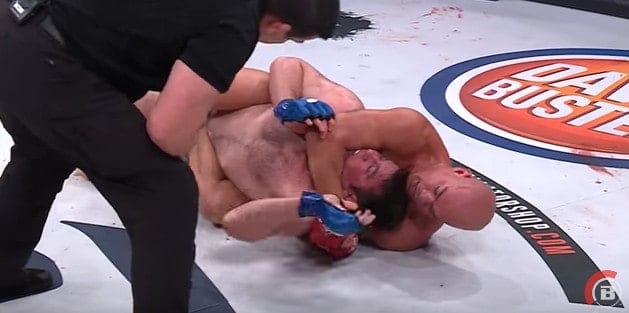 One other frustration that Hardy has with Bellator is their habit of pitting older names in the main event of their shows and not promoting their younger rising talents such as Michael 'Venom' Page. Hardy believes Bellator is taking the right step to correct this with the upcoming bout between Paul Daley and Rory MacDonald:
"The other thing that frustrates me, as well, is Bellator have got so much talent on their roster," he said. "Why are we watching these old relics battle it out in main events? I want to see the talented fighters that they've already got competing.

"I mean, (Paul Daley vs. Rory MacDonald) is a great fight. What a great fight. (Michael Page), we need to see more of that kid. We need to see him matched up against contenders that we know their status (so) we know where they're at. I think they've got talent on their roster that they need to push more. And I know that they're trying to bring in their markets with their big old names, but they don't get the performances out of those big old names, especially with them reaching 40. They're just not on their game any more."
What do you make of Hardy's comments?
If you enjoyed this story, please share it on social media!