On the short list of greatest amateur wrestlers of all-time, Dan Gable is for sure one of the best ever. Not only being a dominant wrestler, but also considered one of the best coaches of all time.
Here is a condensed version of the legendary Dan Gable. Going from his journey to winning every accolade in wrestling, dealing with tragedy, and becoming an even greater coach.
Dan Gable's Early Years
Dan Gable grew up in the small town of Waterloo, Iowa. From an early age, Gable was a self admitted hellion.
His parents were always working and Dan would always find a way to get into trouble. That is when his parents decided to enroll him into the local YMCA to help him find guidance and discipline.
He would first get into swimming and would actually excel at the sport. Winning a state championship in the backstroke at 12 years old.
Gable had already been wrestling from an early age, but began to hone his skills at this YMCA. But even though Dan excelled at sports, he had a hard upbringing.
His parents liked to drink and the local police would often visit his home to break up fights between his parents.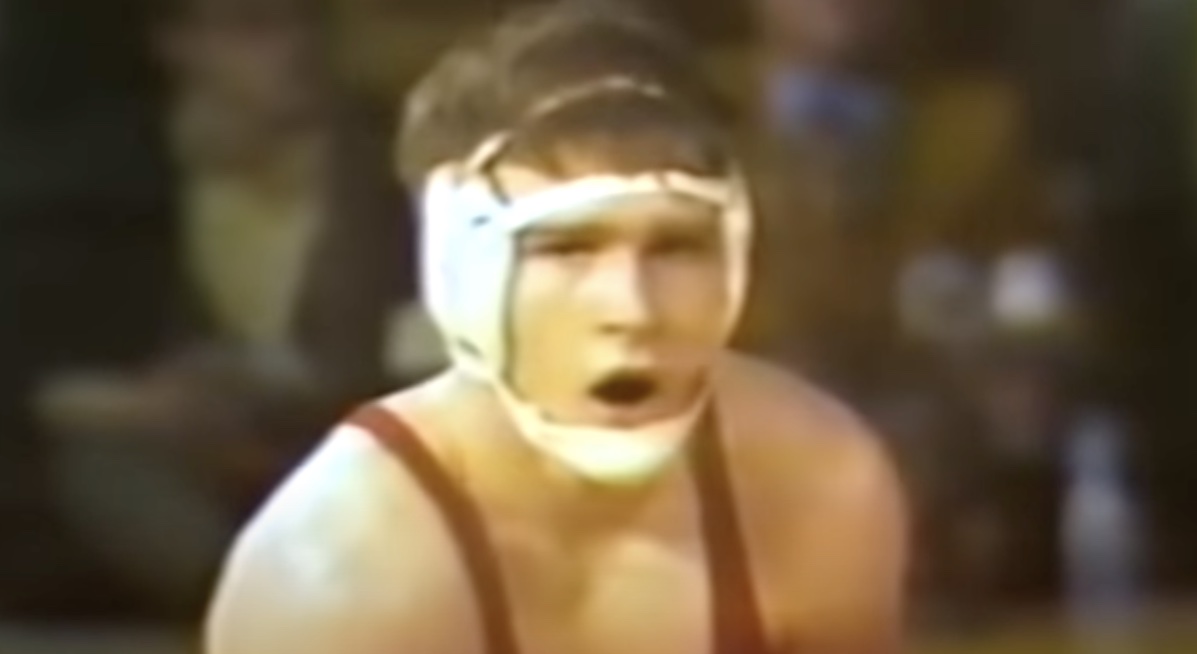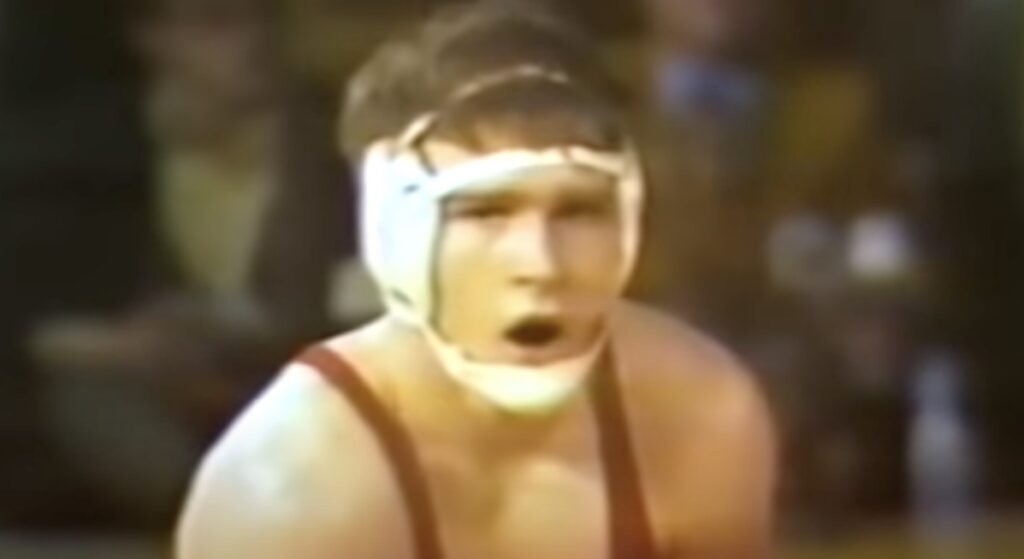 Dan Gable's Early Wrestling Career
Despite Gable's hard upbringing, he had good instructors that helped him develop his skills. He credits much of his development to his wrestling coach at West Waterloo High School.
In his high school career, Dan went undefeated going 64-0 with 25 pins. Winning a state championship three years in a row in three different weight divisions.
Dan Gable's Collegiate Career
Dan's stellar high school career would earn him a full scholarship to Iowa University. A college that has been historically considered having one of the best wrestling programs ever.
Gable would continue his domination throughout his collegiate career. As a freshman, Gable would compete in the 142 lb division throughout his entire collegiate career.
He would go on to win three straight national championships in the weight class and going undefeated.
Dan Gable's Only Collegiate Loss
Going into his senior year, Dan had not suffered a loss in his wrestling career in over a decade. In his final match in the national championship, Gable had an unblemished record with 118 straight wins
He would face a sophomore from Washington named Larry Owings, who many assumed would lose to Gable. Dan, who was methodical about his pre-match ritual didn't do his usual thing.
Instead, he was doing interviews with ABC's Wide World of Sport and wasn't focused on the match. Larry Ownings however was prepared for the match and gave Gable the match of his life.
Ownings would shock the world and beat the greatest wrestler in the country 13-11 to win the national title. Putting Dan Gable's collegiate record at 118-1.
Even though Gable lost, he felt that the loss was the best thing to ever happen to him. It would drive him to pursue a world championship and Olympic title.
Dan Gable's Performance at the 1971 World Championship
Coming off his loss at the 1970 college championship, Gable would return in even better form. His first big competition post-college was at the 1971 World Championship.
He had a strong showing and was the clear favorite to win the competition. Easily beating his first four opponents and winning all of his matches by pin.
Unfortunately, Gable suffered an injury in the semifinal match and was forced to pull out of the finals. Being forced to settle for silver at the event, but many believed he would've won his final match.
Dan Gable Winning Gold at the 1972 Olympics
Gable would continue his grueling training throughout the next year to prepare for the 1972 Olympic Games. His performance at the Munich Games is widely considered to be one of the best performances of all time.
He would compete in the 68 kg division and not get a single point scored on him throughout the Olympics. Winning his six matches by a combined 27 points.
His match in the finals would be against Soviet Union wrestler and defending champion Ruslan Ashuraliyez. Becoming the first American to win Olympic gold in freestyle wrestling since 1960.
Till this day, people still talk about Gable's performance at the 1972 Olympics.
Dan Gable's Training & Mental Toughness
Dan credits much of his success to his training and mental toughness. He would spend hours a day training until exhaustion.
Taking his body and mind to their limits to become the best he could be. Even during the offseasons, Gable would continue training like he was in wrestling season.
When he would come home during the offseasons and vacation, he would get his friends to help him. Both wrestlers and non-wrestlers to help him sharpen his technique and keep him in shape.
But what meaning experts of wrestling believe that Dan's best weapon was his mental toughness. He credited his wrestling coach for instilling the importance of a tough mind.
Gable likes to recite a quote from his coach: "Guys win this humility and lose with dignity, but dammit don't lose!"
He would always remember that throughout his wrestling career.
Dan Gable's Legacy as a Coach
After having one of the best careers as an athlete, Gable was offered the job of head coach at Iowa University. He accepted the job in 1976 and he would build one of the greatest dynasties in the history of collegiate wrestling.
In his 21 year career as a coach at Iowa, the school won 21 Big Ten Championships. Never losing a conference title in his tenure as a coach.
Also in those 21 years as the coach at Iowa, his team won 15 national championships. Not to mention 45 individual champions and over 152 All-Americans that were part of the team.
Gable was also the coach of the US Olympic team on a few occasions. Most notably at the 1984 Olympics, where his team won 10 medals. Six of which were gold medals.
Dan would retire from coaching in 1997 and his widely considered one the best(if not) the best ever.
The Death of His Sister Diane Gable
On June 1st, 1964, Dan's sister Diane Gable was murdered in her home of Cedar Falls, Iowa. She was unjust nineteen years old.
Dan was heartbroken at the news of his sister's death as the two were very close. The death made national news and the investigation commenced.
A teen named John Kyle was convicted of the murder. A shocking revelation, because Kyle was actually a neighbor of the Gable family growing up.
Gable would later open the Dan Gable Wrestling Institute in Waterloo. Dedicated the institute to the memory of his beloved sister.
You can hear Dan give the full details of Diane's murder on this clip of the Joe Rogan podcast.
Dan Gable's Life After Coaching
After retiring from coaching in 1997, Dan would become a motivational speaker and work at his wrestling institute. He does numerous speaking gigs every year and still puts on wrestling seminars.
The Legacy of Dan Gable
Dan Gable is no doubt one of the best wrestlers and coaches that have ever lived. His ability and mental toughness were an inspiration to many that would go on to be champions. When people talk about the greatest of all-time, he's always on the short list.