Conor McGregor returns at UFC 205 to face Eddie Alvarez in a lightweight title fight for the ages. Following only three years fighting for the UFC, 'The Notorious' has become the main attraction of the promotion. Both the Irish star and Ronda Rousey embody the modern UFC athlete-dangerous in the octagon and lively marketing machines outside the arena of combat. Coming from Crumlin in Dublin, McGregor admits he first took up training in boxing and martial arts to defend himself.
Back in 2007, the dream of becoming a UFC star was far less realistic than it is today. Boxing was more of a likely path, especially for a young Irish lad who could punch. McGregor ended up coming in to the Straight Blast Gym as a fresh faced boxer to spar against Owen Roddy. Currently McGregor's striking coach, Roddy was still a competitive fighter back then, and 'The Notorious' made a big first impression, perhaps not all good. As told to The Irish Times' Paul Kimmage by Conor McGregor's coach John Kavanagh: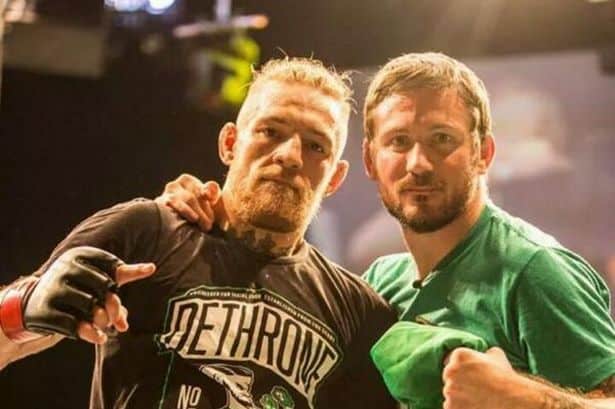 Kavanagh vs. McGregor
PK: Tell me about the first day (in 2007) he walks into your gym. He had been boxing in Crumlin with Phil Sutcliffe.
JK: Correct.
PK: And he picks a fight with Owen Roddy.
JK: Well, it was supposed to be a spar, but it was a fight. Owen was the top dog back then and the new guy wanted to test himself.
PK: And you're watching this with an inquisitive eye?
JK: Of course. Owen had been with me a long time — he was my boy — but this new kid moved in a certain way. He was a southpaw, a good boxer and he just had a way about him that made you go: 'What's going to happen here?' And he caught Owen with a good shot and put him down. 
PK: And then he floored Aisling Daly, which was incredible really.
JK: It sounds worse than it was. He wasn't hitting her in the head or anything, but just happened to throw a body shot that hit her in the sweet spot, the solar plexus, and put her down.
PK: And now the coach is not happy.
JK: I got a little emotional because Ash had been with me a long time and the other guys would look after her. But this new guy had come in and put her down, and my protective nature kicked in. I was still fighting at that stage, or hadn't stopped that long, so I put the gloves on… actually, he has corrected me on that and says it was bare knuckles. But I held him down and beat the shit out of him, without putting too fine a point on it.
PK: (Laughs.)
JK: I kept hitting him in the body until he couldn't breathe and then I looked at him: 'What's it going to be? We can train or we can fight?' And he was OK from the next day.
Source: Paul Kimmage Irish Independent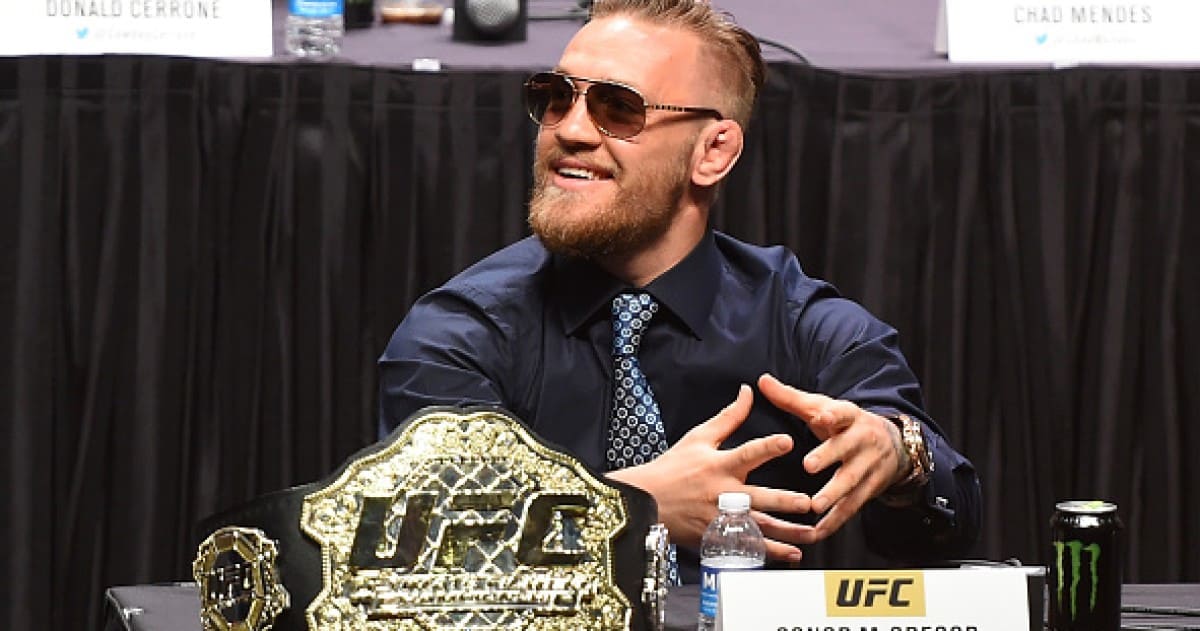 Humbling Beginnings
We've all got to start somewhere! Now standing on the brink of potentially holding UFC titles in two weight classes at the same time, Conor McGregor has gone from a gym brawling kid to a possible candidate for greatest of all-time. If he defeats Alvarez in New York City, few will be able to exile 'The Notorious' from at least the top 3 GOATs conversation.