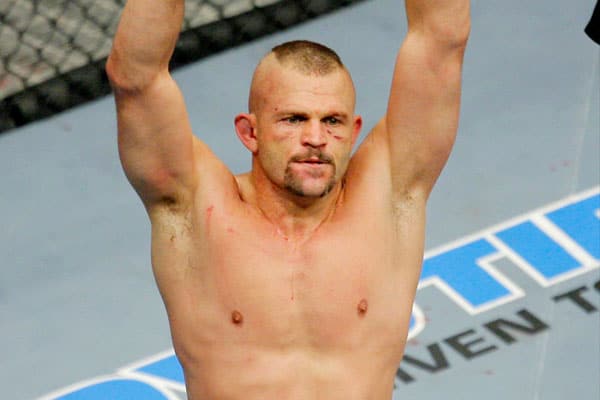 Former UFC light heavyweight champion Chuck Liddell is once again talking about a possible MMA comeback.
It's rare in MMA that fighters stick to their first retirements. There are several examples of that. Tito Ortiz retired after losing to Forrest Griffin a second time, only to return to the sport two years later to join Bellator MMA, Georges St-Pierre couldn't resist the pull of the cage and will be returning later this year to fight Michael Bisping.
Randy Couture came out of retirement to win the UFC heavyweight title once upon a time.
If you recall, just last year, the rumors of his return started when his longtime friend Jay Glazer posted a video on Instagram showing Liddell working some vicious elbow strikes in the gym.
Then talk resumed again after Liddell posted a photo to Instagram showing himself in phenomenal shape.
Liddell has not fought since June of 2010 and is now 47 years old. He decided to retire after losing five of his last six bouts, four of them by vicious knockout.
Liddell was recently a cast member on Celebrity Big Brother where he was the first cast member voted off the show. Liddell spoke with TMZ Sports (transcript courtesy of MMA Fighting) recently about his time on the show.
During the interview, he was asked about why he was training in there. It's very simple as he just wants to stay in shape because of his possible return to MMA.
"It's still a possibility, for sure," said Liddell. "So I didn't want to get too far out of shape. I was in there boxing the whole time. There's a lot of stuff that they didn't show but I was just having a good time in there and staying in shape. I'm staying ready."
Last year, there were some rumors that Liddell was interested in a comeback fight and Chael Sonnen quickly threw his name into the ring. Lidell has also entertained a potential fight against his arch rival Tito Ortiz as well.
"I've said it before in the news, Chael would be a good warmup fight to get back into it," said Liddell. "Tito would be great if he'd even consider fighting me. I hear he wouldn't. He doesn't want to fight me at all. He'll fight other people but not me, of course."
Sonnen is currently competing in Bellator's 2018 Heavyweight Grand Prix. On the flip side, Ortiz retired from MMA in 2017 after submitting Sonnen at Bellator 170.
"It depends on who they offer," Liddell said. "I'm down for just about anything."
If you enjoyed this story, please share it on social media!