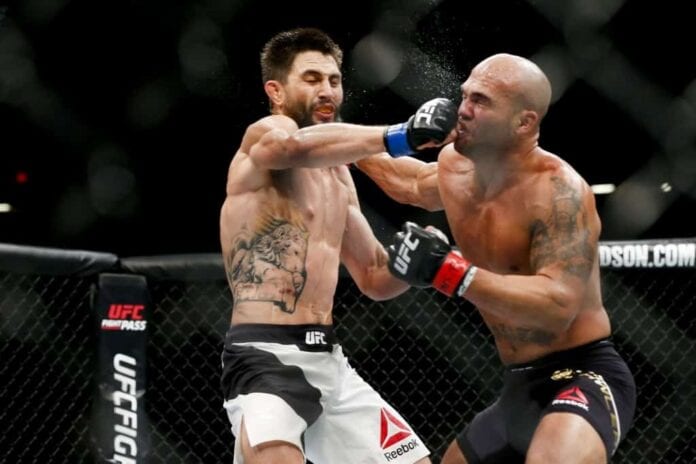 Former UFC interim welterweight champion Carlos Condit has not competed since his January loss to Robbie Lawler, a fight that many believe 'The Natural Born Killer' deserved to win. Fans had wondered whether Condit would come back after such a hard-to-swallow loss, and it wasn't until earlier this month that we learned the 30-9 'NBK' would once again cross that line in to the UFC octagon. Demian Maia is the intended target, and the main event of the August 27 UFC on FOX 21 will play host.
What Carlos Condit brings to the fight game is a quality that 99% of other fighters do not use as primary motivation. Most of the sport's biggest stars are arguably more athlete than pure fighter, 'The Natural Born Killer' does not fall in to that category. Of course it goes without saying that his cardio and conditioning is perhaps the best among the current crop at welterweight, but his overwhelming drive to be part of a bloody war is what makes the Jackson's MMA product so unique and great to watch.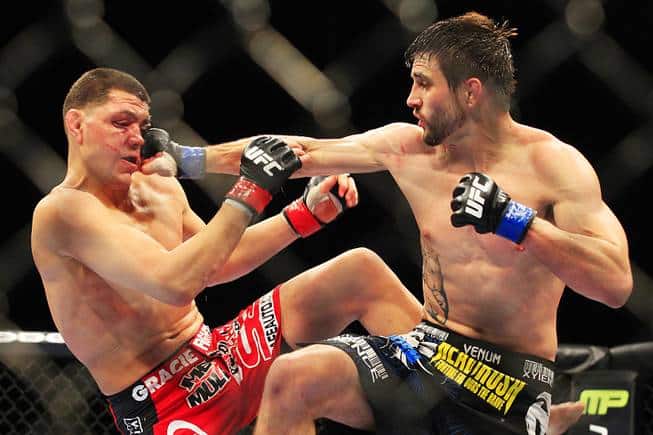 As the modern age of MMA beckons, and Reebok clad contenders help usher the sport in to the mainstream, true gladiators like Condit and Lawler are becoming few and far between. Condit's trail of destruction in the sport can be traced back to Hawaii, Japan, Mexico, the United States, Brazil, England and Canada. For nearly 14 years now 'The Natural Born Killer' has slain foes with a reckless abandon, showing the merciless intent to destroy akin to bare knuckle boxing champions of the pre-Queensbury rules turn of the 20th century.
Condit's willingness to leave the claret stains of his battle wounds in the lining of his armour brings a rare feeling of gladiatorial combat to his fights, a sense of ornery fuelled technique that brings out the antediluvian blood thirst of a time long passed.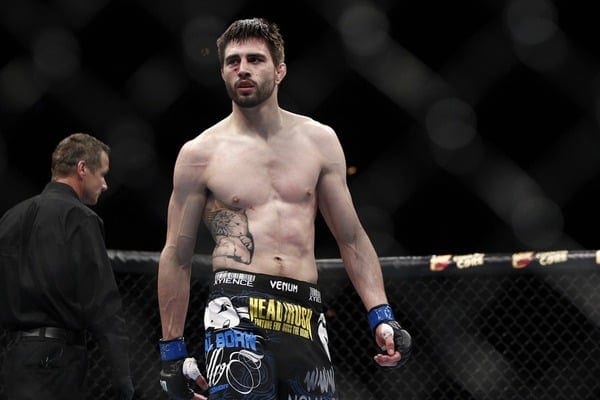 In celebration of Condit's long-awaited return to UFC competition, we've lined up a few of his greatest performances to review and relive during the course of this article. First up let's check out Condit's brutal knockout victory over Tatsunor Tanaka at Pancrase: Blow 9.
That was back in 2006 when Condit already sported an 18-4 professional MMA tally. His first real career-defining moment came two fights later, as 'The Natural Born Killer' faced John Alessio in the now-defunct World Extreme Cagefighting promotion. After successfully debuting for the organisation with a submission win over Kyle Jenson, Condit faced the experienced veteran Alessio who was coming off a submission victory of his own against Brian Gassaway.
Here's what happened at WEC 26.
Battering and submitting Alessio won Condit the vacant WEC welterweight championship. He would go on to defend the title three times before crossing over to the UFC, where Martin Kampmann won an extremely questionable decision over 'NBK.' Now it was time for Condit to unleash his wrath upon the 170-pound division. Five straight victories including three very impressive knockouts led 'The Natural Born Killer' to the interim title belt. He' won it against Nick Diaz at UFC 143, and was set to face Georges St-Pierre to unify the titles at UFC 154.
Although he lost the decision against 'GSP,' Condit walked away with no loss to his ever-growing stock. He'd put on a great show, and nearly had the undisputed welterweight GOAT finished following some elite striking combinations. Another close decision against Johny Hendricks would see 'Bigg Rigg' get the judges nod, and it was time to settle an old score. Condit bludgeoned Martin Kampmann before suffering a career threatening injury against Tyron Woodley.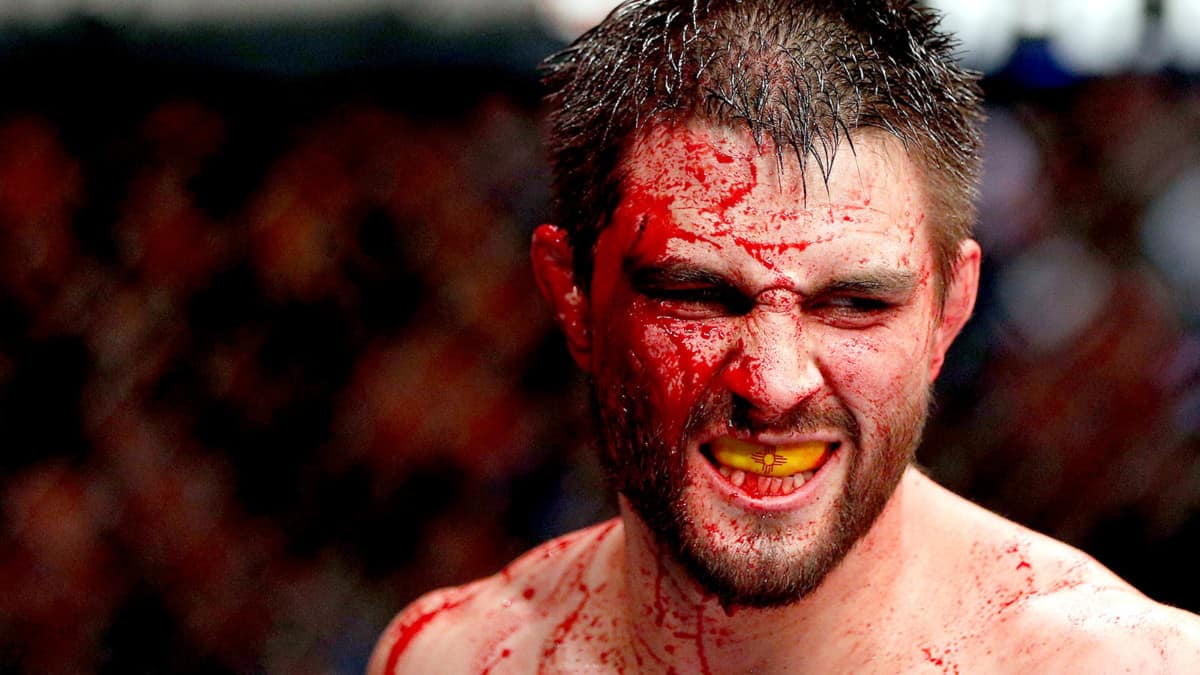 A torn ACL and partially torn meniscus would see Carlos Condit out of action for more than a year following surgery. 'The Chosen One' would later receive a title shot against Robbie Lawler that's set for UFC 201, but it was 'NBK' who would get first dibs on Lawler. After a successful comeback fight against Thiago Alves, Condit would get another crack at UFC gold in the form of the UFC 195 main event on January 2, 2016.
A gruelling five round war typical of both Condit and Lawler was the result, as the first pay-per-view card of 2016 delivered a quality argument for 'fight of the year' honours. It was yet another enervating battle to add to the expanding list, but had we seen the last of Carlos Condit in UFC competition? Of course not.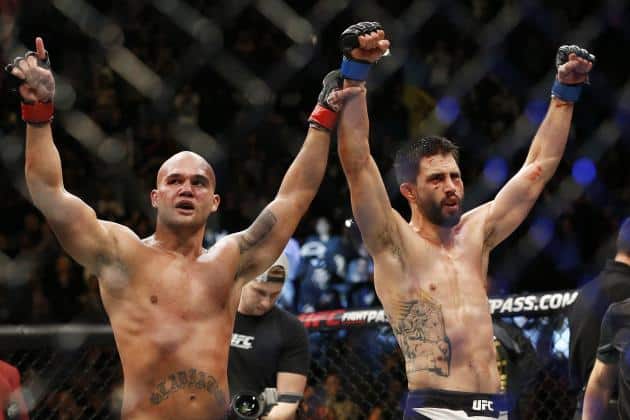 With the Brazilian Jiu Jitsu ace Demian Maia next on the list, Carlos Condit's return is a challenging one. One of mixed martial art's most revered warriors will place blood and guts on the line for glory, in a manner we've become accustomed to through countless inspiring performances.
Here's a video highlight from Facebook that pretty much sums up what you can expect from Carlos Condit's return this coming August 27.