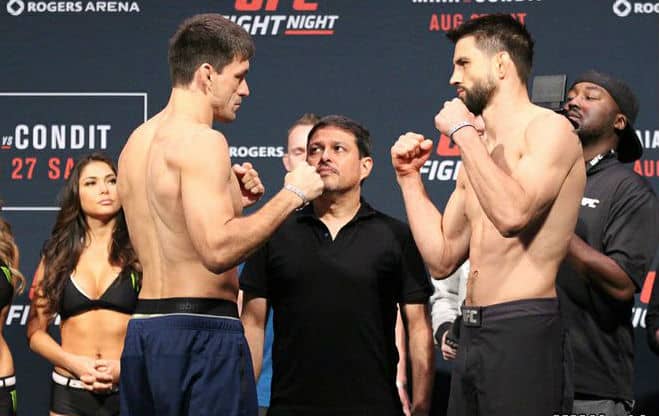 UFC on FOX 21 is here, and it goes down today from the Rogers Arena in Vancouver, British Columbia. The early prelims will air on UFC Fight Pass at 4 p.m. ET while the other prelims will air on FOX at 6 p.m. ET. The four-bout main card will air on FOX at 8 p.m. ET.
The main event of this event will be a welterweight clash between Carlos Condit and Demian Maia while the co-main event will be a featherweight bout between Charles Oliveira and Anthony Pettis. Rounding out the card is Bec Rawlings vs. Paige VanZant in a women's strawweight bout and Joe Lauzon vs. Jim Miller in a lightweight bout.
According to oddsmakers, Condit is a -130 favorite over Maia, who is a +110 underdog.
Here are the full betting odds:
Alex Ricci +135 Over 2½ -175
Jeremy Kennedy -155 Under 2½ +155
Thibault Gouti +255 Over 2½ -170
Chad Laprise -310 Under 2½ +150
Shane Campbell -135 Over 1½ -155
Felipe Silva +115 Under 1½ +135
Alessio Di Chirico -255 Over 1½ -170
Garreth McLellan +215 Under 1½ +150
Kyle Bochniak -200 Over 2½ -175
Enrique Barzola +170 Under 2½ +155
Kevin Casey +185 Over 1½ -190
Sam Alvey -225 Under 1½ +165
Joe Lauzon -155 Over 2½ -120
Jim Miller +135 Under 2½ +100
Bec Rawlings +185 Over 2½ -265
Paige VanZant -225 Under 2½ +225
Charles Oliveira +170 Over 1½ -170
Anthony Pettis -200 Under 1½ +150
Demian Maia +110 Over 3½ -135
Carlos Condit -130 Under 3½ +115