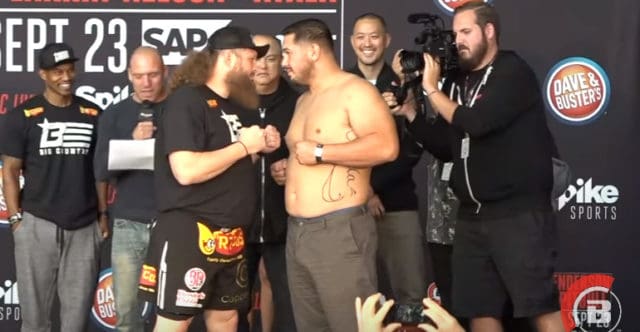 Bellator 183 is here, and it goes down tonight (Saturday, September 23rd) from the SAP Center in San Jose, California. The main card airs on Spike TV at 9 PM EST while the preliminary card will air online at 7 PM EST. Occurring also is Bellator Kickboxing 7 is headlined by welterweight title bout pitting champion Karim Ghajji vs. Raymond Daniels.
The main event will feature Benson Henderson vs. Patricky Pitbull in a lightweight bout. Rounding out the five bout main card is Roy Nelson vs. Javy Ayala in a heavyweight bout, Paul Daley vs. Lorenz Larkin in a welterweight bout, Adam Piccolotti vs. Goiti Yamauchi in a lightweight bout, and Aaron Pico vs. Justin Linn in a featherweight bout.
According to oddsmakers, Henderson is a -220 favorite over Freire, who is a +180 underdog. Other odds for the main card include Ayala being a +155 underdog against Nelson, who is a -175 favorite. Here the betting odds for the main card:
Lightweight: Benson Henderson (-220) vs. Patricky "Pitbull" Freire (+180)

Heavyweight: Roy Nelson (-175) vs. Javy Ayala (+155)

Welterweight: Paul Daley (+245) vs. Lorenz Larkin (-290)

Lightweight: Adam Piccolotti (-170) vs. Goiti Yamauchi (+150)

Featherweight: Aaron Pico (-800) vs. Justin Linn (+550) If you enjoyed this story, please share it on social media!