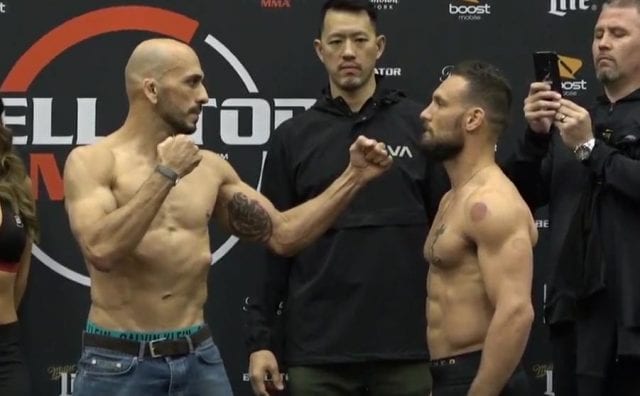 Bellator 219 results are underway as the Viacom promotion holds this latest event on television for fight fans around the world to watch the show.

It's once again fight day here at LowKickMMA, and the talent on display tonight (Friday, March 29, 2019) will come in the form of Bellator 219. Headlining the card are Saad Awad vs. Brandon Girtz , but there's a whole bunch of great fights also taking place on the rest of the main card.

Saad Awad and Brandon Girtz meet in a lightweight bout in the main event. In round 1, they came out swinging for the fences. Awad tagged him a few times and had Girtz back tracking. Then, Girtz ran forward while throwing until they clinched up again the fence.  In round 2, Girtz shot in for a takedown but was stuffed. Awad continued to pick him apart with strikes. Girtz stunned him with a big right hook then a left uppercut. Awad answered then sprawled out of takedown. Girtz with a big overhand right. In round 3, after having some nice striking exchanges, Girtz hurt him and Awad went down with Girtz landing a series of big strikes but Awad stayed alive. They had a wild exchange for the last two minutes that was incredible. The judges gave the win to Girtz.
Daniel Straus and Shane Kruchten meet in a lightweight bout in the co-main event. In round 1, they clinched in the early going. Late in the round, Straus dropped him with a big time strike and then landed a series of strikes until Kruchten gave up his back and Straus locked in the rear-naked choke for the win.
Andrey Koreshkov vs. Michael Jasper is next in a welterweight bout. In round 1, Andrey landed some spinning punches early. Jasper was trying to close the range. Not a ton of action but strictly standing. In round 2, Jasper was struggling to get inside while Andrey continued to work the body of his opponents. Andrey started to let his hands go and tagged him a few times. Late in the round, Andrey scored a takedown. In round 3, after some striking, Andrey focused on the takedown while Jasper was throwing some sick elbows. It was a heck of a performance by Andrey and implementing his will on his opponent. Andrey walked away with the decision win.
Opening the main card on DAZN is Joe Schilling vs. Keith Berry in a middleweight bout. In round 1, Schilling dropped him with a nice combo and then got into full guard. Berry scrambled back to his feet. Berry clinched him with him and then slammed him down to side control. Joe was able to get back to his feet where he cut Berry under his right eye. Berry scored a late round takedown. In round 2, Berry scored an early round takedown into guard. Joe managed to get back to his feet where they continued striking. Joe started to light him up at the end of the round.  In round 3, once again, Berry took him down and scored mount position where he worked him over with strikes. He stayed in this spot for the majority of the round. In the end, the judges gave the win to Joe.
Here are the results for this event:
Bellator 219 Main Card (DAZN/9 p.m. ET)

Lightweight bout: Brandon Girtz def. Saad Awad by unanimous decision (29-28, 29-28, 30-27).

Lightweight bout: Daniel Straus def. Shane Kruchten via submission (rear-naked choke) – Round 1, 3:53

Welterweight bout: Andrey Koreshkov def. Mike Jasper via unanimous decision (30-27, 30-27, 30-27)

Middleweight bout: Joe Schilling def. Keith Berry by unanimous decision (30-26 x3)

Bellator 219 Prelims (Online/7 p.m. ET)
Joey Davis def. Marcus Anthony via knockout (punches) – Round 1, 4:21
Dalton Rosta def. Cody Vidal via verbal submission (injury) – Round 1, 1:06
If you enjoyed this story, please share it on social media!