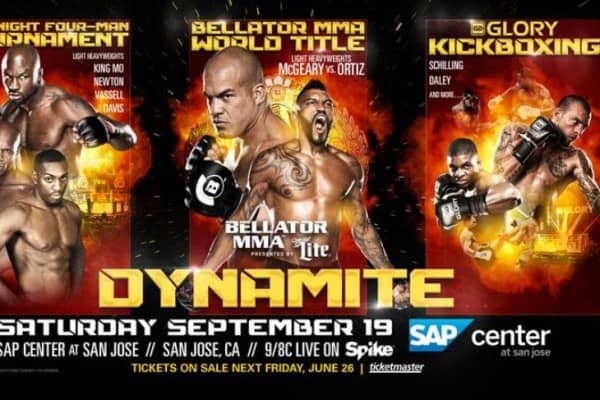 Bellator 142: Dynamite 1 takes place this Saturday night, September 19th at SAP Center in San Jose, California and the main card will air on Spike TV in prime time.
This event is a stacked show to say the least with with a light heavyweight Championship fight between current champion Liam McGeary and UFC veteran Tito Ortiz serving as the main event. The event features a Glory Kickboxing card that will feature Bellator fighters Joe Schilling and Paul Daley. Also, a  four-man light heavyweight tournament featuring Phil Davis, Muhammed Lawal, Emanuel Newton and Linton Vassell.
We will be providing live play-by-play coverage this Saturday night.
Here are the weigh-in results for the event:
Main Card (Spike at 9 p.m. ET):
(Bellator) Tito Ortiz (204.6) vs. Liam McGeary (204.8)
(Glory) Saulo Cavalari (208.8) vs. Zack Mwekassa (207.2)
(Bellator) Josh Thomson (155.4) vs. Mike Bronzoulis (155.4)
(Glory) Paul Daley (170.4) vs. Fernando Gonzalez (175.6)
(Glory) Keri Anne Taylor-Melendez (120.8) vs. Hadley Griffith (121)
(Bellator) Phil Davis (205.8) vs. Emanuel Newton (204.4)
(Bellator) Linton Vassell (205) vs. Muhammed Lawal (204.4)
Undercard (MMA Fighting at 6:30 p.m. ET):
(Bellator) Matt Ramirez (126) vs. Josh Paiva (126)
(Glory) Serhiy Adamchuck (143.8) vs. Anvar Boynazarov (141.4)
(Bellator) Gabe Carrasco (135.4) vs. Joe Neal (135.6)
(Bellator) Adam Piccolotti (155.8) vs. Salvador Becerra (156)
(Bellator) Thomas Diagne (145.6) vs. Mike Malott (145.2)
(Bellator) Francis Carmont (205) vs. Anthony Ruiz (205.4)
(Bellator) Nick Pica vs. Mauricio Alonso
(Bellator) Victor Jones vs. David Blanco
(Bellator) Gloria Telles vs. Alysia Cortez
(Glory) Jose Palacios (145.6) vs. TJ Arcengal (145.2)
If you enjoyed this story, please share it on social media!