Robert Whittaker warns Alex Pereira of the potential dangers he could face should he move up in weight.
Reigning middleweight champion, Pereira fills out the 185lb limit quite like no other. Standing 6'4 the Brazilian packed on over 25lbs in the 24 hours after his last weigh-in, and out of camp looks to weigh even more.
Like an optical illusion, Pereira seems to never appear small regardless of who he is pictured with including light-heavyweight Dominick Reyes and heavyweight boxer Zhilei Zhang. It is no surprise then that Pereira's training partner and coach Glover Teixeira says that it wont be too much longer until he moves up weight class.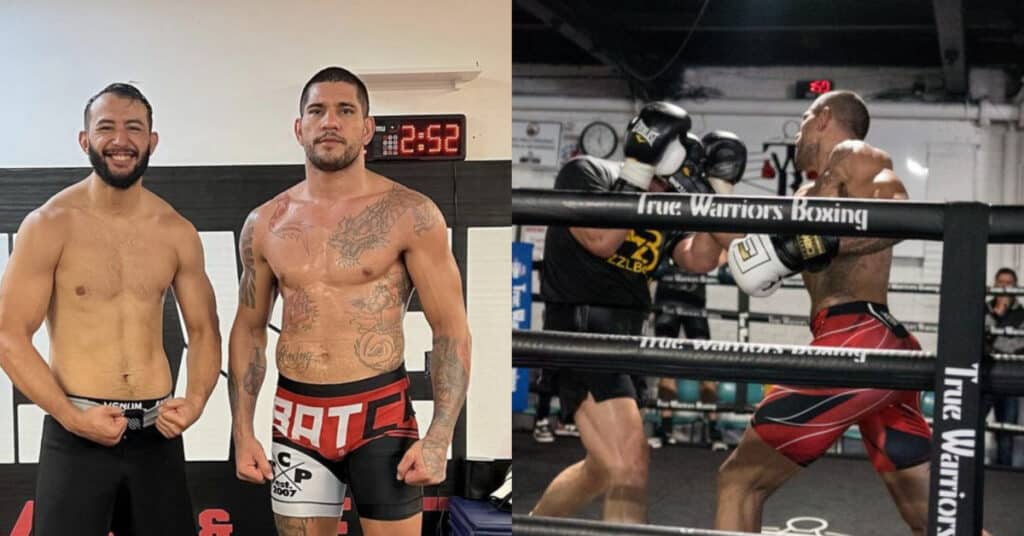 "Eventually he will," Teixeira said. "We talk about it. He can fight anywhere. Look at this guy. He can fight in any division. He can fight in Heavyweight, Light Heavyweight – he's big."
Robert Whittaker talks Alex Pereira's move up in weight
However, fellow middleweight Robert Whittaker said that while a move up in weight is warranted, he should be careful what matchups he pursues, especially at heavyweight.
"I think the talk (of moving up) for him, in particular, is very warranted because he's a huge dude," Whittaker said on The MMA Arcade podcast. "He is monstrously big and he struggles with the cuts. I think he's 35 now as well, so the cuts aren't getting easier… I think the talk about him going to heavyweight is definitely warranted, I think he has to move up in weight."
"His striking is world calibe, I think he'd have a lot of success in the heavier weight divisions," Whittaker continued. " I'd stay well away from Jon Jones. I've seen Pereira's wrestling. I'm not gonna say it's terrible, but you stay well away from Jon Jones ." (H/T MMANews)
Alex Pereira returns next weekend at UFC 287.
Do you agree with Robert Whittaker?