The 7 Worst Predictions in CagePotato History
As the saying goes, "Men make MMA predictions and God laughs." With that in mind, let's revisit some of the most classic blunders in CP history, in chronological order. Good thing we're completely unaccountable for the things we say here!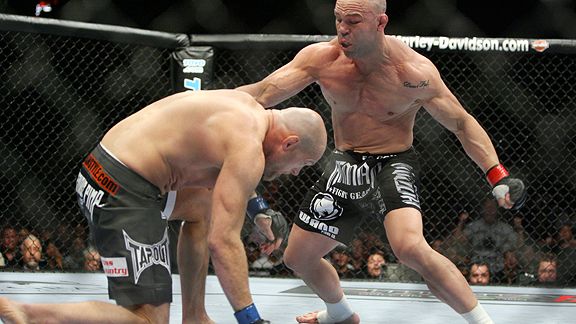 From: "Gambling Addiction Enabler: UFC 84 Edition" (The very first installment of the G.A.E.)
BG said: "Look, we know the Axe Murderer was a killer in PRIDE — but he needs to win a couple in the Octagon to convince me that he's just as fearsome over here. Take away the use of soccer kicks and knees to the head on the ground, biased refs and judges, matchmaking that had him go up against opponents that were tailor-made for his style, (*cough*steroids*cough*), and the confidence that comes from never losing, and we're not even talking about the same guy anymore. Silva won't be doing any axe-murdering at UFC 84 — he's going to be fighting not to lose, and will come out a much more cautious, tentative version of himself. Meanwhile, Jardine is surely working on another great game-plan with Greg Jackson, knowing that if he pulls off another big win his title shot will be waiting."
What happened: Wanderlei Silva via KO (rape choke), 0:36 of round 1. LOL @ Jardine's "title shot."

From: "UFC 85: Bedlam — Ipecac Rematch Picks" (this article seems to have disappeared from the Internet; you can check out a screen-shot from my Google Reader here, and a little bit of backstory here.)
BG said: "Matt Hughes may be on the decline, and Thiago Alves is definitely on the come-up, but they haven't passed each other yet, so to speak. Though Alves caught Karo Parisyan at UFC Fight Night 13, he's failed in previous big tests against Spencer Fisher and Jon Fitch. Hughes may have trouble with Alves's striking and youthful energy, and a submission victory is unlikely, but I can see the future Hall of Famer dominating the young challenger with his wrestling and grinding out a decision."
What happened: Matt Hughes got utterly ruined by the Pitbull's striking and youthful energy; Alves via TKO, 1:02 of round 2. I lost bragging rights to Fightlinker, as well as the entire contents of my stomach.

From: "Ben vs. Ben: UFC 90 Edition"
BG said: "Fabricio Werdum has just as much chance to pick up Knockout of the Night, simply because he's a world-class fighter and his opponent, Junior Dos Santos, is about as random as they come. Dos Santos should be leading off a UFC Fight Night undercard against another Octagon newbie, not throwing down with a top ten heavyweight. It'll be an ass-whuppin', to be sure."
What happened: Oh, it was an ass-whuppin', alright. Junior Dos Santos via uppercut destruction, 1:20 of round 1

From: "Ben vs. Ben: UFC 92 Edition"
BF said: "I've been racking my brain trying to think of some way Mir might win, just to be contrary, and I've got nothing. He definitely won't sub Big Nog. He doesn't have the cardio or the faith in himself to outpoint him over the course of five rounds. And if Mir becomes the first person to knock Nogueira out there's simply nothing left for me to believe in. Nog submits Mir via rear naked choke at 3:55 of round two. That's that."
What happened: Frank Mir did become the first person to knock Antonio Rodrigo Nogueira out, at 1:54 of round 2. Ben Fowlkes is now a devout scientologist.

From: "Gambling Addiction Enabler: UFC 95"
BF said: "Absolutely Don't Bet Against: Josh Koscheck. Seriously, you think Kos is going down to a guy from the Brazilian leagues stepping into the Octagon for the first time? No way. You ought be ashamed of yourself for even thinking it."
What happened: Paulo Thiago via KO, 3:29 of round 1. As a reminder, CagePotato's gambling advice is for entertainment purposes only.

From: "Ben vs. Ben: UFC 112 Edition"
BG said: "So you're saying you'd rather be the guy who has no chance to win — I repeat, NO CHANCE TO WIN — than the guy who could at least theoretically surprise his opponent with a submission? Seems a little self-defeating to me. Basically, I would hate to be Frankie Edgar right now. It has to be disheartening to prepare for a fight where you know you won't hold a single concrete advantage. At least Maia has an actual path to victory, as unlikely as it may be."
What happened: Frank Edgar by unanimous decision. The rematch is next month, because even the UFC hasn't accepted the result yet.

From: "Grab a Coffee, Lock Your Office Door and Waste an Hour of Your Friday Listening to 'The Bum Rush: Episode Two'" (starts at the 39:25 mark)
Doug "ReX13" Richardson said: "Ladies, take off your skirts. Far too cautious about this. Werdum has nooo chance, okay? We talk about his 'puncher's chance'? You never talk about a 'grappler's chance.' Okay? And even if there was such a thing as a grappler's chance, Fedor has been in there with grapplers…he keeps winning. Yes, Werdum has the Abu Dhabi cred, he had a good run in the UFC, he probably shouldn't have been cut after being knocked out by Dos Santos. I cannot see any way that he wins this. I definitely can't see him catching Fedor in a submission. I can't see this going his way at all."
What happened: Turns out there is such a thing as a "grappler's chance." Fabricio Werdum via triangle/armbar, 1:09 of round 1. Can we put our skirts back on now, Doug?
Honorable Mentions:

– "The Unsupportable Opinion: Thales Leites Has a Good Chance at UFC 97" (Not an official prediction, but still, pretty damn hilarious in retrospect.)
– "Gambling Addiction Enabler: UFC 116 Edition" (In which I recommend that you all put $20 on Shane Carwin, and $5 on Chris Tuchscherer.)
(BG)