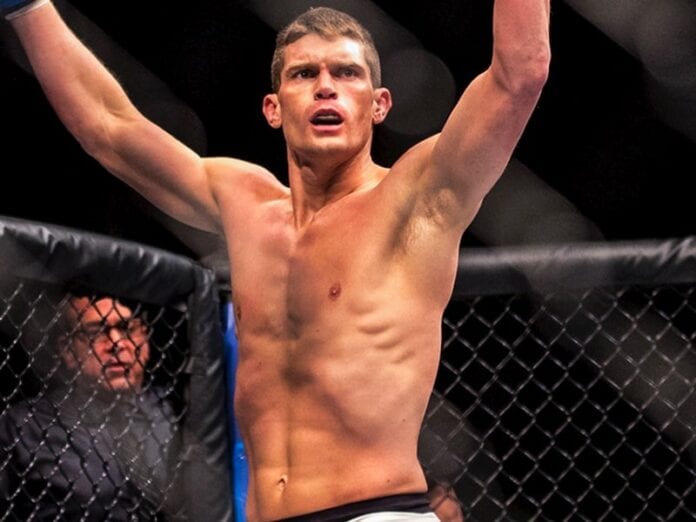 Coming off of his dominant win over Rory MacDonald at last weekend's UFC Fight Night 89 event in Ottawa, Stephen 'Wonderboy' Thompson is certain that he's next in line for a crack at the 170-pound title.
Before 'Wonderboy' can get his shot, however, he has to wait and see just who will be holding the welterweight crown, as current champion Robbie Lawler is set to battle it out for the strap with No. 3-ranked Tyron Woodley in the main event of UFC 201.
Thompson told FOX Sports that he expects Lawler to remain the 170-pound champion when it's all said and done in Atlanta:
"Just from what I've seen in the past from both fighters, Robbie Lawler gets stronger as the fight goes on.
He breaks a lot of guys mentally that way. When guys are starting to get tired, Robbie Lawler's just picking it up. Tyron's the opposite of that," Thompson said.
Hopefully he's (Woodley) worked on his cardio, but in the past he slows down as the fight gets longer. He goes out very hard in the first round, very explosive in the first round, but if Robbie Lawler gets past that first round, which I believe he will, I think he's coming away with a win, possibly a knockout."
While Thompson isn't too confident in Woodley's ability to get the job done against Lawler, 'Wonderboy' is determined to be the one to put an end to 'The Ruthless One's' title reign:
"I believe I can (knock him out)," Thompson said. "I believed I could knock out Rory MacDonald, Johny Hendricks and Jake Ellenberger, and sometimes it happens, sometimes it doesn't, but I know I can knock these guys out.
It definitely puts a smile on my face that people think I might be a favorite in that fight," Thompson said.
"I think people are starting to see the skills I have, the karate style that I use, and hopefully we'll get more people out there studying and getting into karate as well. It does put a smile on my face."
'Wonderboy' is one of the most dynamic strikers we've ever seen in the sport, due in large part to his impressive 57-0 kickboxing career, and he believes he has everything it takes to de-throne 'Ruthless':
"I think I am the better striker. He's the type of guy that stands in front of you, he's very, very tough.
I believe he's slower than Rory MacDonald. I believe I'm faster than him. The speed is going to be tough for him, and I think the angles are going to be tough for him.
But he's a champion, he's going to be coming with his 'A' game. I need to be ready for the best Robbie Lawler in the world."
While Lawler and Woodley slug it out at UFC 201 in the Phillips Arena, Thompson says he wouldn't mind taking a trip to Georgia to witness the title bout firsthand:

"I want to be there," Thompson said. "If not there, hopefully I'll be in the studio analyzing the fight."
UFC 201 takes place live on pay-per-view (PPV) from the Phillips Arena in Atlanta, Georgia on July 30, 2016.