What's Next For Robbie Lawler After UFC 189?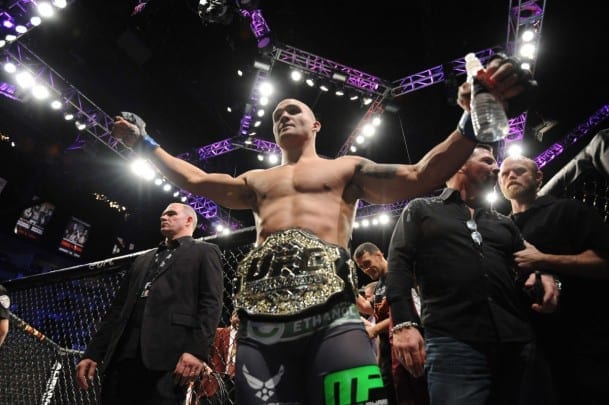 "Ruthless" Robbie Lawler proved he was a true champion this past weekend (July 11, 2015) at UFC 189, defending his UFC welterweight title for the very first time against Rory MacDonald in the co-main event in what turned out to be one of the greatest bouts the sport has ever seen.
After bloodying MacDonald up early on, Lawler found himself in trouble when the Canadian rocked him with a huge head kick in the third round. The "Ruthless" one somehow escaped the third round, but MacDonald looked as if he was taking over in the fourth, with both men now battered and bloody. However, in typical Lawler fashion, the champion came on strong late in the fight, landing a beautiful left hand that shattered MacDonald's nose in the fifth, securing a spectacular TKO victory.
After such a war, Lawler may need some time off, but take a look at who could be next for the champion below:
Johny Hendricks
A trilogy match is definitely needed in this rivalry as the two men have met twice already, with the score split. The first time around, Lawler and Johny "Bigg Rigg" Hendricks met at UFC 171 in 2014 for the vacant welterweight strap. The two battled it out in a five-round war, but a late takedown for Hendricks sealed the deal, as Lawler dropped a unanimous decision in a close and exciting affair.
The rematch, which went down at UFC 181 last December, was just as exciting, yet the result was different. Once again the two warriors battled it out for five rounds, but this time it was the "Ruthless" one who came on strong in the end, earning a split-decision victory, and stealing the belt.
Hendricks has only scored a rather uneventful decision over Matt Brown since his rematch with Lawler, but he is indeed the No. 1-contender, and it wouldn't be surprising to see the UFC book the trilogy next, as there were talks of it happening before MacDonald even got his shot.
Tyron "The Chosen One" Woodley currently sits at No. 3 in the 170-pound rankings, and has won four out of his last five, with his only loss coming to MacDonald. Woodley has been campaigning hard for a title eliminator bout with Hendricks, but it seems as if "Bigg Rigg" is only interested in a title shot.
I'm not sure that the UFC would leapfrog Hendricks, but if they did, the shot would likely go to Woodley, as he is probably the next viable contender.
Carlos Condit or Matt Brown
These two are paired together because I don't believe either of them are next in line, but both men are definitely not far away from a title shot, and if there happens to be a shakeup with Hendricks and Woodley, Carlos Condit or Matt Brown could find themselves challenging for gold in the near future.
"The Natural Born Killer", who is currently ranked No. 4, recently returned from a 14-month layoff due to injury to smash former title challenger Thiago Alves last May. Condit looked phenomenal and definitely proved he is still in the title race.
Brown on the other hand, who sits at No. 5, was previously on a seven-fight winning streak prior to dropping back to back decisions to the division's elite in Lawler and Hendricks. "The Immortal" returned to action this past weekend at UFC 189, starching the surging Tim Means in the first round. This likely won't be enough to warrant a title shot, but Brown's exciting style, coupled with the fact that he battled Lawler for five-rounds in an exciting affair last summer means that he is still in contention.
Perhaps it would be smart to pair Condit and Brown off against each other to form a new contender.
Who do you think Lawler should meet next?