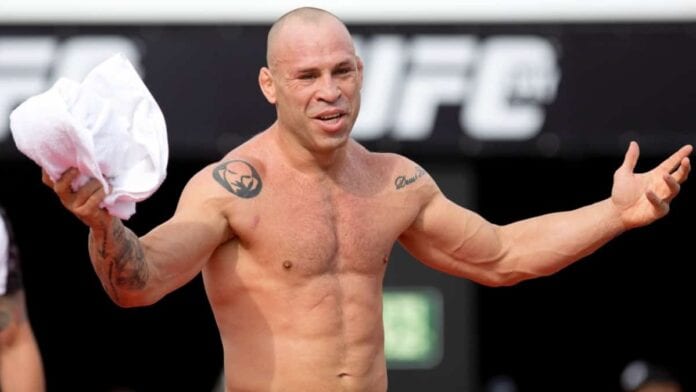 Wanderlei Silva vs Chael Sonnen in Brazil? XFC are trying to make it a reality…..
UFC veterans Wanderlei Silva and Chael Sonnen have certainly been through the mill in the last year; "The Axe Murderer" skipped a random NSAC (Nevada State Athletic Commission) drug test back in May and, following months of speculation, called it quits on his career before receiving a lifetime ban in Nevada.
Chael P. actually took all his dope tests, but was subsequently popped for five different banned substances and received a two year ban by the Commission. Links to WWE, and a commentating position with Battlegrounds MMA prove that Sonnen with likely find it easy to get work, but rumours are once again spreading about a potential fighting return for "The American Gangster" and Silva.
The ban by Nevada is just that, and both guys could likely get licensed to fight in Brazil or Asia if they chose to do so. In fact, XFC (Xtreme Fighting Championship) are actively looking to book Wanderlei Silva vs Chael Sonnen in Brazil. The bout that was originally scheduled for the TUF Brazil 3 finals, and then UFC 173, would likely garner tons of attention for the regional U.S. based promotion.
"The Axe Murderer" commented during an interview after XFC International 7 in Sao Paolo, Brazil, and said the following:
"If Sonnen accepts the fight, why not? I'd do it. Why not? I'm here. Come get it."
No word yet from Sonnen himself, but you have to imagine there will be soon. After all the controversy and deep waters the two shared in the UFC, I'd actually tune in to watch them finally go to war. What do you think, are you still interested in seeing Wanderlei Silva vs Chael Sonnen?
*UPDATE*
Sonnen has declined the offer to fight Silva in Brazil, but MMAMania reports that he is up for grappling with "The Axe Murderer":
He plans to honor his current suspension from NSAC, which doesn't expire until mid-2016. He is, however, willing to throw down against Silva in a jiu-jitsu match under the Metamoris banner, should the Brazilian be willing to comply.
Follow @Rorylowkick

Follow @LowKick_MMA

Tweet