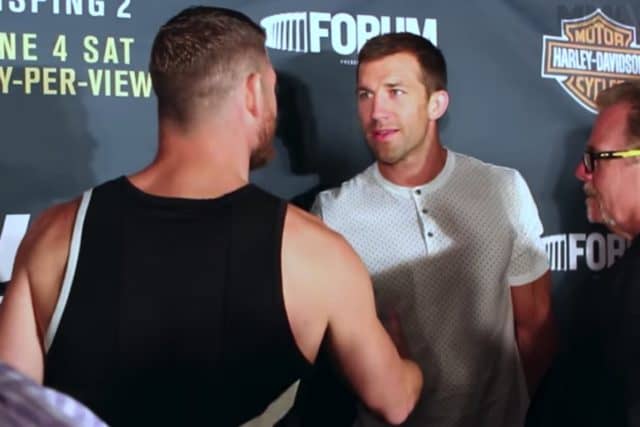 The dust had hardly settled on Michael Bisping's amazing knockout win over heavily favored former champion Luke Rockhold in the main event of last night's (Sat., June 4, 2016) UFC 199 from The Forum in Inglewood, California, and the fighters had already begun setting the stage for a trilogy match.
Following a heated back-and-forth at the UFC 199 post-fight press conference that featured Rockhold repeatedly calling Bisping "a d***" as "The Count" predictably needled him about being knocked out, the bitter rivalry didn't appear to be ending anytime soon. Check out the video of the brutal smack talk courtesy of MMA H.E.A.T. right here:
When Bisping apparently tried to shake Rockhold's hand after the presser, a scuffle erupted where both world-class middleweights had to be separated. Watch it courtesy of MMA Junkie right here:
If you enjoyed this story, please share it on social media!