UFC Fight Night 67 Results: Francimar Barroso Outlasts Ryan Jimmo Following Brutal Groin Shot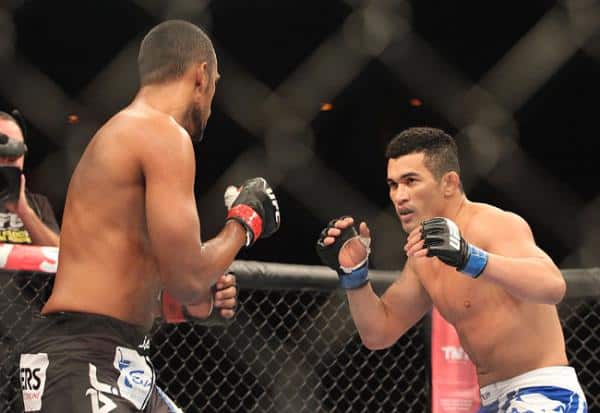 After almost an entire year off, light heavyweight karate artist Ryan Jimmo made his return to the Octagon against Nova Uniao product Francimar Barroso on the main card of tonight's (Sat., May 30, 2015) UFC Fight Night 67 from the Goiania Arena in Goiania, Brazil.
The Canadian striker Jimmo came out with two thudding leg kicks. He snapped a counter off a Barroso rush, but the Brazilian countryman clinched on the fence. He attempted several takedowns but Jimmo maintained his balance until a very short-lived single leg. Another clinch forced a restart, upon which Jimmo threw a head kick. Barroso rushed forward with some lunging punches to close out a relatively uneventful first round.
Barroso rushed again in the second, landing a body kick and going for a takedown. Barroso clinched on the fence once more, prompting another restart that saw Barroso land a hard low blow on Jimmo. He took his full five minutes to recover, getting sick in a cageside bucket while simultaneously giving Barroso the same to recover himself. The fight restarted and Jimmo snapped a straight right followed by some varied kicks and an uppercut. Barroso countered with a rushing right hand, and Jimmo jumped in with a solid uppercut. Barroso clinched and landed some hooks, and another break from the ref lead to the end of the second round.
In the third, Barroso came out with his right hand once again. Jmmo snapped a low kick and another, but the action slowed down to elicit boos from the action-hungry crowd. Barroso did his familiar rush to clinch, but Jimmo reversed him briefly before again seceding the dominant position. A separation lead to more staring and dancing, and Barroso landed a right hand, clinching to wear down the grindfest. In the end, Barroso took home a unanimous decision in front of his home fans.
Final Result: Francimar Barroso def. Ryan Jimmo via unanimous decision (30-27, 30-27, 29-28)