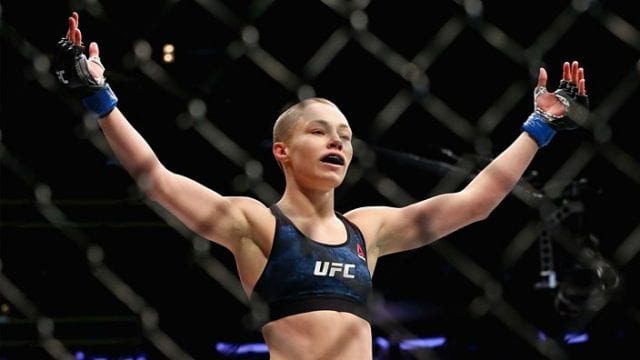 Women's strawweight champion Rose Namajunas will return to action at UFC 237 when she defends her title against Jessica Andrade in Brazil.
Namajunas will make the trip to Curitiba, Brazil along with her longtime boyfriend, former UFC heavyweight Pat Barry, on May 11, 2019.
"I wanted to fight in Brazil," Namajunas said on a recent edition of "The Ariel Helwani MMA Show." Barry briefly took over the interview to revealed Rose was offered to defend her title at the upcoming UFC 235 pay-per-view (PPV). He claimed she asked to fight in Andrade's home county instead.
"That's just how I perform best. I think it's a great opportunity," she added.
"I never ever really wanted to fight out of the country. The last time I left the country I lived in Indonesia, the middle of third-world conditions, no running water, no electricity. Just really challenging months for me," she added when recalling her time living overseas."
"We built a house for 30 days, living in tents and stuff like that. It was a real difficult thing I went through but it was one of those experiences where you hate it and love it," she added. "Fighting in Brazil is definitely, I'd love to fight in my own backyard, of course, but fighting is not about being comfortable."
Namajunas last competed in April of 2018 when she defeated Joanna Jedrzejczyk for the second straight time. When she steps into the Octagon at UFC 237, the champion will be 13 months removed from her last title defense.
Couple that with the added pressure of the fight being in Brazil and "Thug Rose" has a serious challenge ahead of her in
Curitiba.
If you enjoyed this story, please share it on social media!