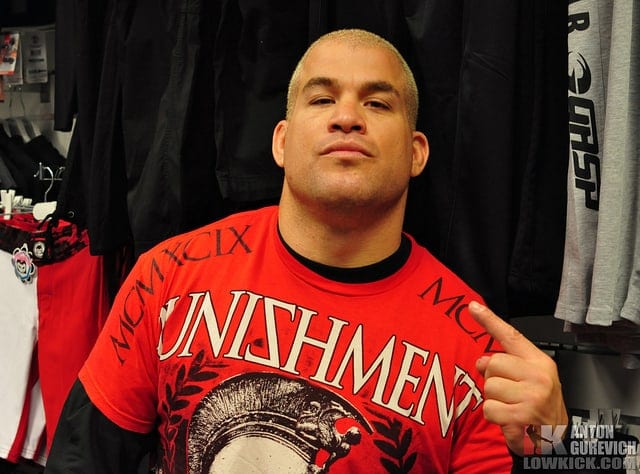 Former UFC light heavyweight champion Tito Ortiz recently made "waves" at September 5's Bellator 123 when he had an impromptu shoving match with his upcoming opponent Stephan Bonnar, The Ultimate Fighter (TUF) 1 veteran whom he'll face on November 15.
The whole thing started off with Bonar bringing out Ortiz' old friend and training partner Justin McCully in a black mask as a symbol of Ortiz's betrayal and less-than-authentic personality. While most deemed it a scripted event, Bellator president Scott Coker and now Ortiz insist that it was real.
"The Huntington Beach Bad Boy" spoke up to Submission Radio to state that the "brawl" was not set up:
"I had no prior knowledge at all. I was like 'what the hell is going on right now?' I thought we were just going to do a face off and so forth and I was gonna have to slap him or something, but all of a sudden there's some guy with a mask walking in. I'm like 'what the hell?
I was like okay, he's got bodyguards, he knows I'm gonna put my hands on him', and then all of a sudden he revealed the gimp and I was like 'oh ok. Great, here we go', and I just, like I said, the anger was built up so much I couldn't control myself. I couldn't get a sentence out right cause I was so angry, and like I said, it wasn't staged. I don't even know what was going to happen."
Ortiz refers to his ex-friend McCully as the "gimp," a direct shot at a man who claims that Ortiz owes him a lot of money from past business deals. Ortiz isn't buying it, however, and put McCully on blast:
"I had no clue that Justin was gonna be there, and for one; Justin actually started training with me back in 2001 or about 2002, and I treated him like a brother. You know, under my wing. I brought him to many places where he didn't have to pay for anything. You know, private jets around literally the world.
And then all of us a sudden this guy comes and says that I owe him something. That I owe him money or something and he's gonna make me pay back by training Stephan Bonnar, and I come to realize that it's just him trying to get his notoriety. It's him trying to get a little bit of 15 seconds of fame, and I guess he got it last Saturday night."
Apparently Ortiz feels sorry for McCully, but not enough to stop calling him names on a public radio show:
"I feel sorry for the guy. To see how fake and how two-faced a person can really be. You know, zero loyalty at all, and I feel sorry for him, and I'm gonna take it out on Stephan Bonnar on November 15th.
Stephan Bonnar brought out a gimp. To me he's no more than a gimp. I no longer have a friend and I think as that Justin "The Gimp" McCully. I feel sorry for him as a person because I don't see how he could have another friend at all just because of how fake he truly is."
Interesting words from "The Huntington Beach Bad Boy," who has no doubt been labeled "fake" himself. Probably the most staunch proponent of that mindset would be UFC President Dana White, who has recently compared the anti-UFC propaganda of OneFC welterweight champion Ben Askren to that of Ortiz' old antics.
To Ortiz, that only means that White is still thinking about him:
"Dana has always tried to make me look bad as much as he possibly can, but I guess I'm still in his head. I haven't been with him for almost two years and he's still talking about me, and he can't stop talking about me. So I guess I'm not that dumb of a guy, and for him to compare me to Ben Askren who's an Olympic medalist, cool.
But I mean fight-wise, Ben Askren hasn't done anything close to me in the fight game, but maybe he will in time.
You know, Dana is a control guy. He likes to control everything and he just couldn't control me and that's why he hates on me so much, but I mean I really look at it as someone's still talking about you, you're doing something right."
It's hard to tell if Ortiz is just selling his fight or actually has some true disdain for Bonnar and McCully; perhaps the truth lies in between. But Bellator and its employees continue to insist that the "brawl" wasn't fake, yet it still doesn't seem like anyone believes that to be true.
Will the media spectacle persuade more viewers to tune into the fight, or will the promotion already be off to a rough start under Coker?