Holly Holm proved a lot of critics wrong at UFC 193, but more than anything else, she showed that there's truly something about Holly….
The UFC bantamweight queen Holly Holm came through the ranks like a rocket, perhaps getting a title shot 'too soon' according to the critics before UFC 193, but the timing turned out to be just right in hindsight.
After facing insane odds against the highly touted Ronda Rousey, the consensus 'greatest and most dominant female athlete,' and poster girl for the new look UFC. Unfortunately for 'Rowdy' and the promotion, hype will only get you so far in this game.
Of course that's not to say Rousey won't go down as the pioneering individual of WMMA and undoubtedly an incredible champion, but perhaps a mix of an inflated ego and deflated striking skills came back and bit the former champ in the ass.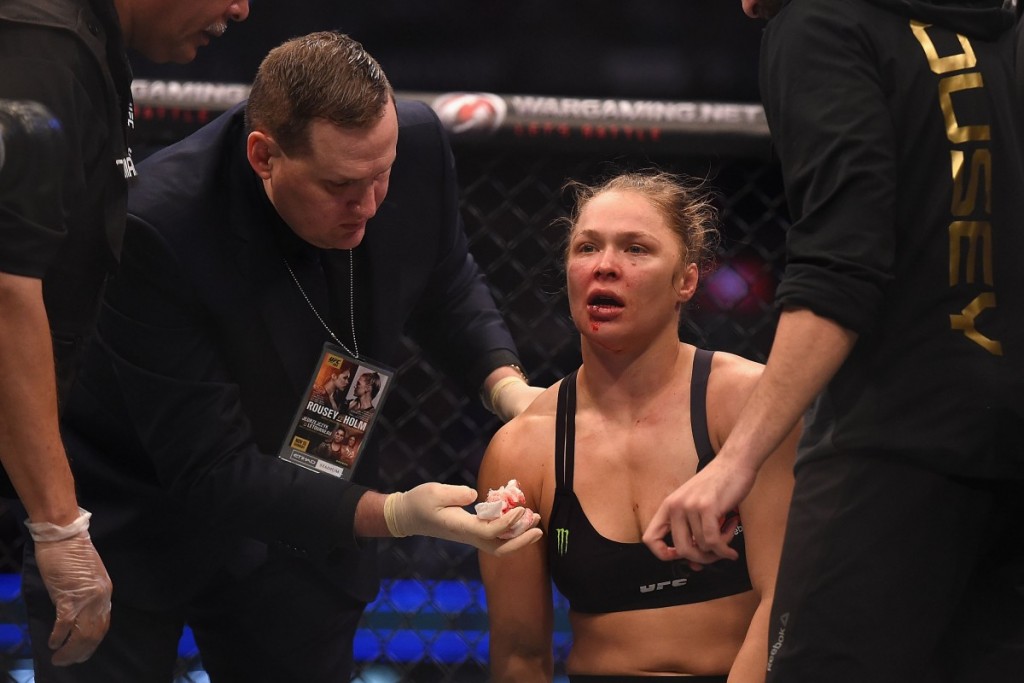 So now it's Holm who sits above the marquee women's division of the UFC, and we have a window of opportunity to reflect on her career so far, before the inevitable and now confirmed rematch transpires.
'The Preacher's Daughter' started her MMA career in 2011, after a glittering stint as a multiple time women's boxing champion. Widely regarded as the best ever in her weight class, Holm came in to the world of mixed martial arts with great expectations. Who knew that only four years in she'd have toppled the best already?

Five wins and four more knockouts after the debut TKO against Domke, and Holm faced Julie Werner for the legacy FC bantamweight championship in 2014. The finish was a highlight reel head kick knockout, eerily similar to the fatal blow that dispatched Rousey the very next year.

*Skip to 28 minutes for the finish*
Her next two fights, decisions over Marion Reneau and Raquel Pennington, saw an un-typically gun shy 'Preacher's Daughter.' Seemingly long gone was that killer instinct that had her winning all but one fight by brutal stoppage, and perhaps the UFC saw an opportunity for Rousey to destroy another 'mediocre' opponent.
How wrong were they?

So now as the dust has finally settled on the first fight, and we look forward to Holly Holm vs. Ronda Rousey 2, can we make the call that Holm is going to become the next greatest female fighter ever?
Of course there's a lot of work for the Jackson-Wink product before she can claim the title of lady GOAT from 'Rowdy,' but at the very minimum, we can say there's something about Holly Holm.
Is it the rare ability to absolutely destroy a division of contenders, and possibly even take care of the women's featherweight category when it's finally instated? Possibly.