Jon Fitch

-

search results

If you're not happy with the results, please do another search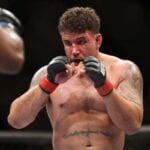 Despite many calling for his retirement, UFC heavyweight Frank Mir isn't ready to close the curtain on his storied career just yet. The former...
UFC heavyweight fighter, Pride FC legend, and fan favorite Mark Hunt spoke earlier today about his upcoming bout. As well as this, Hunt speaks about problems he has had with the UFC and Dana White.
5 things that, if they happen, will ensure 2011 is one of MMA's best years to date
Mix Martial Arts has been called the future. The fastest Growing sport in the world today. Here is where a person becomes a fighter, a fighter a star, a star into Champion, and Champions into Legends. Now fighters are to fans, what superheroes are to kids. Icons , Idols , a form of admiration and respect. Now every fan of the sport has their own favorites fighters , but everyone loves the fighter who becomes the Champion, Every wish and desire of the fans is to see their Champion to rise and defeat every