Quote: Kimbo Slice Is MMA's 'Biggest Star'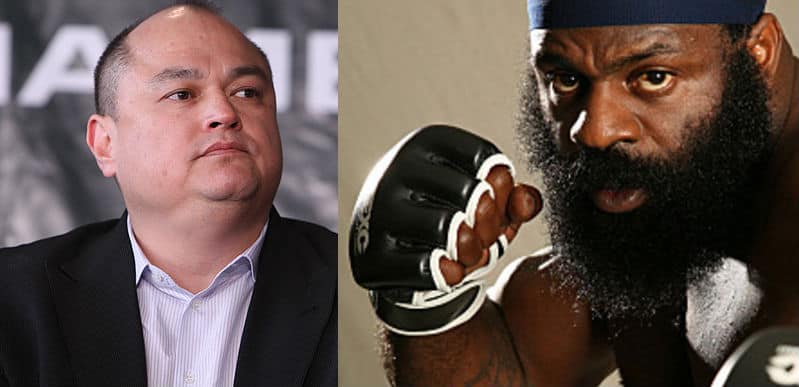 Bellator MMA officials have announced Kimbo Slice vs. James Thompson and Paul Daley vs. Josh Koscheck for Bellator 158, which takes place on July 16 in London.
Bellator MMA held a press conference on Thursday in London to promote the event, and some news outlets caught up with Bellator MMA President Scott Coker. During the interviews, Coker defended the fights that he has booked that included Slice. Some fans hate the fact that the promotion is booking "freak show" fights and some fans love it. However, Coker has justified the reason that he continues to book Slice over and over.
"Kimbo Slice is a character of his own," Coker told MMA Latest. "He resonates with fans, unlike any other fighter I've seen. Who's the most watched fighter in MMA history? You know what? It's not Ronda Rousey, it's not even Conor McGregor – it's Kimbo Slice. It might be hard for some fans to swallow, but at the end of the day, 7.2 million viewers on CBS live against James Thompson. We're bringing that fight back here, and I think it's the fight that fans want to see."
Coker does have a point with the kind of ratings that these kinds of fights bring in. If you compare the freak show fights that average over a million to the other Bellator cards, which pulls in an average of 900,000 viewers, you can understand where Coker and Spike TV are coming from.
"One of the greatest moments in the history of MMA was the (Pride Shockwave) Dynamite," Coker told Combate. "It was an event in Japan where Bob Sapp faced (Minotauro) Nogueira. He did not even know to fight and was beginning, starting workouts. He took the Nogueira and hit the ground in this great struggle. Nogueira the finished, but in Japan, they have this kind of fight the whole time. In addition, Akebono fought Royce Gracie, and this is part of martial arts. MMA does not have to always be what "hardcore" fans want it. I grew up in a system that said, "Hey, these fights happen all the time in the MMA industry." The most fanatical fans might not see that way, and some do not like. But we have 3.3 million people who watched and liked. Can you say that this kind of fight, thinking "outside the box", reach an audience even greater for our industry. The most fanatical fans may not agree, but the average US audience saw and liked the show."
"If we do three or four fights for the most fanatical fans and booked a time when that style … Guys like Kimbo Slice and Bob Sapp … I do not think you have a problem with that (…) I am very excited not by what we did last year or in recent months, but by what we do in the next two, three years. Honestly, the experience I had with Strikeforce … Four, five champions we did in Strikeforce, and also fighters who had not been champions, won the UFC belt. We have a great cast, I've been down this road before, and I think I know how to promote."
It will be very interesting to see how this show does in the ratings.