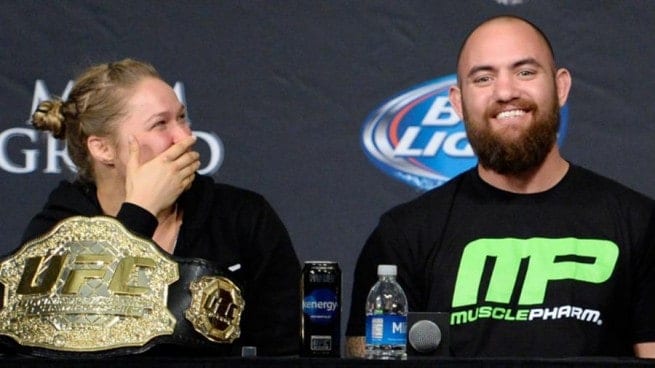 Once the news was made official on Monday (October 13th, 2015) that UFC heavyweight Travis Browne and UFC women's bantamweight champion Ronda Rousey were in a relationship, the couple became the talk of the internet.
Several months ago there was a photo of Browne and Rousey that surfaced online while the two were at dinner together. This led to many believing that the two were a couple. Of course in hindsight they were at the time.
Browne originally confirmed his relationship with Rousey while appearing on Monday's edition of The MMA Hour. Browne explained that dating is for children, but being in a relationship is for adults.
"Dating is for children," Browne said. "Dating is for kids. Over the summer, through all the sh*t that I had to shuffle through, that I had to sift through, Ronda, and I started talking throughout the summer, and I'll say now that we are together. She's my woman, and I'm her man. There's no boyfriend, girlfriend stuff. There's no dating. We're together."
Following the news being confirmed, ESPN contacted Ronda Rousey for a statement, which she provided. In the statement, Rousey made it clear that she has her public life and her personal life, which she likes to keep separated. She kept her statement brief, yet to the point by saying that she enjoys her time with Browne and vice versa.
"I don't talk about my personal life much. That's why it's called 'personal life,'" Rousey told ESPN in a statement Monday. "It's true that Travis and I are in a relationship. I've really enjoyed the time we have spent together and getting to know one another. And that's all I'm going to say about it."
Rousey is scheduled to fight Holly Holm at UFC 193 while Browne will be fighting Matt Mitrione at UFC Fight Night 81.