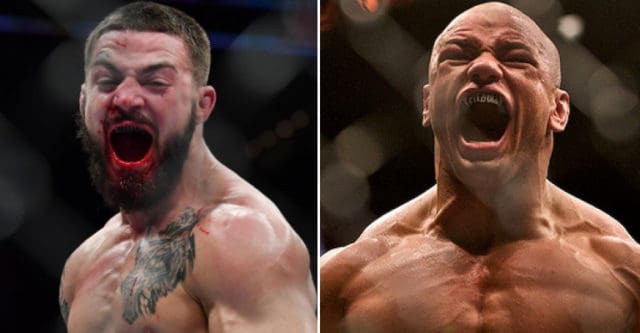 Surging UFC welterweight Mike Perry was focused and prepared for Thiago Alves up until three days from their scheduled fight at last weekend's (Sat., September 16, 2017) UFC Fight Night 116 from Pittsburgh.
With Hurricane Irma devastating Florida, Alves opted to stay behind with his family instead of flying to Pennsylvania, something Perry himself had to do in order to make it to fight night against a short-notice replacement opponent.
Perry went off on Alves decision to pull-out from their fight at the last minute on Five Rounds podcast, and in classic "Platinum" fashion, he didn't hold back his true feelings:
"Listen, here's an opportunity for him to make a hundred grand in one night. He beats me, he gets a hundred grand because if I beat him, I get the hundred grand. He gets more than a hundred grand, he gets more than me to show up. So right there, if he was comfortable enough to stay behind and not get that payday just for showing up, he could have taken that money, flown his family even further out of state so they never would have had to sleep overnight in the gym, his dog wouldn't have died . . .

"I made the adjustments, I came from Florida, a bunch of my family and friends came from Florida, they all showed up. His team from down south, ATT [American Top Team], they all showed up. Hector Lombard was there. We all came from Florida. He was mentally defeated. This young kid was gonna whoop that ass."

"So if they call and they offer the guy who backed out three days before again – who almost hurt the card because people were there to see me. There was a lot of hype for me to go and fight. People want to see me fight, period, because I come to fight. . . So if they call me and want Thiago again, I'll accept the fight, I'll sign the contract, I'll prepare to destroy him but he's going to mentally break again. He's not gonna come fight me, and if he does, he'll be on steroids when he shows up and I'll still whoop his ass."
Perry ended up making quick work of Alves' replacement, Alex Reyes. Perry knocked Reyes out with a brutal knee to the head just a little over a minute into the first round.
Perry, who trains and lives year-round in Florida, now understands the fickle nature of fight matchups, and used the opportunity to throw his name in for a replacement should any top welterweights pull out of a fight in the near future.
"The top 15 guys ahead of me. Who is gonna have a fight that's gonna fall out? Call me on three day's notice. S**t happens, 170-pound fighters lose fights. Call me."
If you enjoyed this story, please share it on social media!