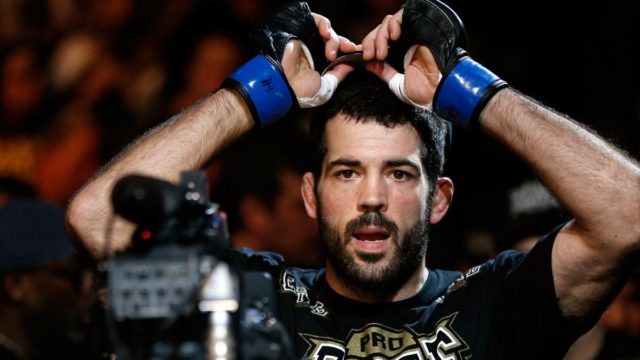 Matt Brown might be changing his tune about possibly retiring from pro-MMA competition.
It's been well documented that his latest bout against Diego Sanchez on the main card of UFC Fight Night 120 on November 11th, 2017 at Ted Constant Convocation Center in Norfolk, Virginia would be his last fight.
Brown was on a three-fight stoppage skid and made it clear that this would be his retirement fight. As seen in the fight, he broke that losing streak by landing a devastating elbow strike to knock out the always tough Sanchez.
Now, things have changed, and Brown shed some light on it during a recent interview.
"(The) kids love me fighting," Brown told MMAjunkie Radio. "They were jumping up and down when I told them I was fighting again. They were like, 'Yes, yes' and pumping their fists and shadow-boxing. They're all about it. They want to see me fight, and they want to see me beat people up. So, they're excited.

"I think the more adult family – it's kind of up in the air. We see the pros and the cons. My wife certainly enjoys more time with me. But she likes fighting, too. She likes to see me accomplish what I set out to do. So we're in it together."

"I said, 'Keep offering fights. If the right thing comes up, I will come right back,'" Brown said. Because of my retirement, I wouldn't be able to make the weight that quickly."
Earlier this month, a report came out stating that UFC is looking to book a fight between Brown and former interim welterweight champion Carlos Condit at a Fight Night event that is slated to take place on April 14. Keep in mind there's has been no date or location revealed for this event. Also, the UFC has yet to come out and announce the bout.
"That was the big thing with the whole retirement. It really scared me, the thought of retiring," Brown said. "It was a really nerve-wrecking thing. And I had no idea what I was going to do. So I just kind of had to make it official – which turned out not to be official, but at the time it was official. And I'm not so scared. I had lot of opportunities come up. I've been doing a lot of work with MusclePharm, specifically.

"Just a lot of opportunities came up that I guess I just didn't realize were out there, because I've always been so hyper-focused on the fighting. And it just made me feel a lot more comfortable with stepping away from the sport. Just realizing there's another world out there, and I can handle that, and I could be content with that."

"I retired for the holidays," Brown joked. "Starting the new year off back with a new fight, man. New outlook. New determination. New will. We're back, man. Let's do it."
If you enjoyed this story, please share it on social media!