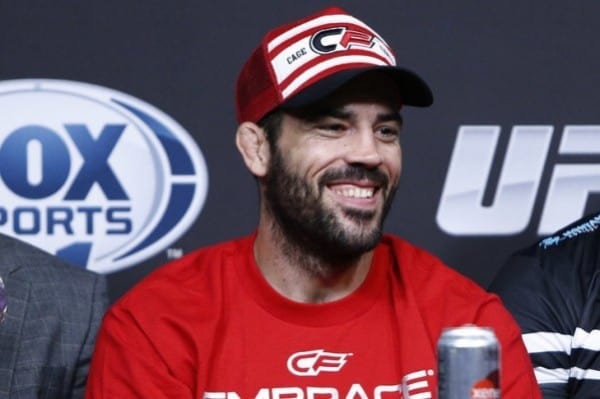 Following the recent addition of UFC bantamweight champion TJ Dillashaw, Colorado's Elevation Fight Team appears focused on becoming one of the best all-around camps in MMA.
And if a pair of recent full-time acquisitions is any indication, "The Viper" will be in good company at his new Denver home base. According to Elevation head coach Leister Bowling, who recently denied allegations from Urijah Faber that he was "recruiting" his fighters to his team, UFC welterweight contender Matt Brown recently became part of the team after doing three of his last five fight camps at Elevation.
"The Immortal" was looking for a steady schedule of likeminded training partners (via MMA Fighting):
"[Brown] has great training and great coaches back home [in Ohio], too," Bowling said. "But the training partners for him, I think he was just looking for a place where he knew everyday he was gonna have somebody to train with."
Bowling also stated that longtime UFC featherweight veteran Clay Guida was a full-time part of the team, stating that it was "awesome to have him" after becoming a full-time member of a team that includes names like Cat Zingano, Neil Magny, and Brandon Thatch.
The decorated wrestling coach detailed that with their new deal with supplement company MusclePharm, the Elevation team has recently been able to focus all of their training at a new and improved base facility when they once had to train at different gyms around Denver:
"With what they're willing to do, it allows us to change our schedule a little bit. Our team has always been spread out in Denver."
Finally, Bowling reiterated that he didn't want to steal Faber's Team Alpha Male fighters, because with 10 fighters already in the UFC, he was already at the capacity for giving his current team the most attention he could:
"Our doors are always open to anybody who wants to come train," Bowling said. "But I think the biggest thing Urijah said that's not true is that I'm trying to actively recruit guys. I don't want a whole lot of high-level guys. I want to be able to focus on the guys we do have. Right now, I think we have 10 guys in the UFC and I want to be able to give those guys every bit of attention I can."
If you enjoyed this story, please share it on social media!