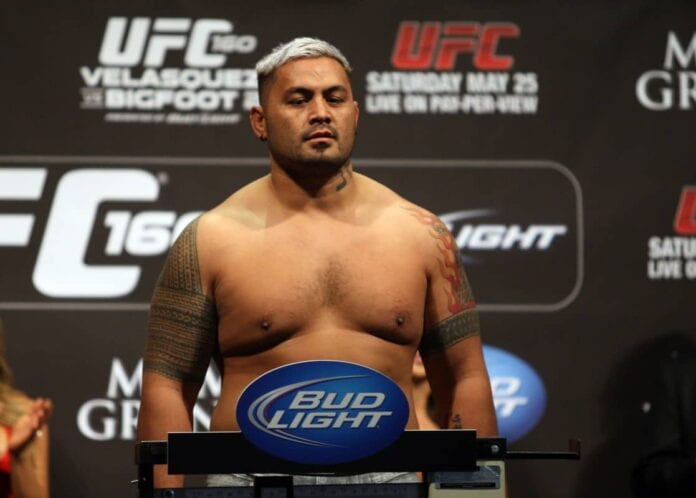 Fresh off of a second round knockout of the iron-chinned Roy Nelson at September 20's UFC Fight Night 52, No. 4-ranked UFC heavyweight Mark Hunt is headed for the fight of his life when he faces No. 1 Fabricio Werdum in the main event of this Saturday's (November 15, 2014) UFC 180 pay-per-view (PPV) event from Mexico, City, Mexico.
It's the very first UFC event on Mexican soil, and the interim belt will be on the line after champion Cain Velasquez was recently forced out with a knee injury. Speaking to MMA Junkie, Hunt thinks his bout with Werdum is for the chance to face off with the true champion:
"The only champion around these days in the heavyweight division is Cain. If you want to be the champ, you've got to beat the champ. This right here is a fight for the No. 1 contender. I don't look at this as the world title; I look at this as the spot to fight the best."
The winner will get a chance to face Velasquez when he tentatively returns around next March, but we've come to learn that nothing is guaranteed with the dominant but oft-injured champion.
Hunt has to get past Werdum first, and he'll have to do it on short notice, enduring a tough weight cut to fight in a high-altitude locale. "The Super Samoan" said that while he didn't have the time for a full training camp, he simply has to make due:
"In the perfect world I would have had the best camp with plenty of time and everything, but I've got a short turnaround and make the best out of the situations I get. I can't do a full camp. I can't even do any sparring because I don't have the time to get injured because I'm already a replacement. All I'm working on is my weight and getting used to the air."
But he doesn't seem all that concerned with Werdum's improving skillset, which includes a branching out into some lethal Muay Thai thanks to decorated trainer Rafael Cordeiro. The power-slugging K-1 veteran remains focused on doing what he does best:
"All I care about is what I'm going to do in the octagon. I've got to focus on is what I'm going to do in the fight. It makes it so much simpler for me as a fighter. All I've got to do is go in the octagon and put more hurt on him then he does on me. Then I've won."
Hunt's gameplan sounds exactly the same as his usual strategy, one that's yielded solid (and exciting) results thus far. He reiterated that Velasquez is the true champion, stating the belief that he if he beats Werdum, he wouldn't call himself the champ:
"It wouldn't sit right with me if I had that belt around my waist and called myself the world champion. I can't call myself the champion of the world in mixed martial arts unless I beat the champion of the world. Who is the champion of the world at the moment? Cain Velasquez."
With a ton of respect for the absentee champ, Hunt seems to have much of his focus on Velasquez rather than Werdum. He's looking to take out "Vai Cavalo" with his punishing strikes, and if he does, he believes earning the right to fight Velasquez will be his greatest accomplishment:
"It will be my biggest accomplishment ever as a fighter. As Mark Hunt the fighter and with everything I've done in my career, if I ever get the chance to fight for the world title against Cain, it will be the biggest accomplishment."
Hunt already has the opportunity of a lifetime this weekend, but he could be headed for much bigger things if he can defeat a world-class submission artist in Werdum. Is Hunt's time as UFC champion close by, or will he fall short on his quest for gold?
Photo: Bruce Fedyck for USA TODAY Sports