Kimbo Slice: It's In My DNA To Beat Ken Shamrock's Ass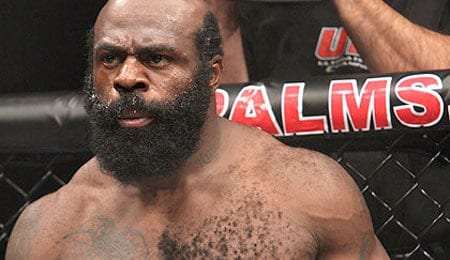 On June 19, 2015 former Ultimate Fighting Championship (UFC) and EliteXC striker Kimbo Slice (4-2) will finally meet mixed martial arts (MMA) legend Ken Shamrock (28-15-2) for Bellator 138 in St. Louis.
The two combatants were originally scheduled to meet in Oct. 2008. "The World's Most Dangerous Man" was forced to pull out of the bout due to a cut over his eye.
Slice appeared on The Ross Report and told World Wrestling Entertainment (WWE) legend Jim Ross that he won't allow Shamrock to end their fight via submission:
"Shamrock is still a threat to me. He's still considered deadly and dangerous to break limbs and submit somebody. I'm just not that motherf***er he's going to submit. I'm just not that guy he's going to tap out. It's not going to happen with me. It's in my DNA to beat his ass."
While many have dismissed Slice's upcoming bout due to Shamrock's age (51-years-old), the former bare knuckle fighter says age is just a number:
"Royce Gracie, over 50 (48-years-old), a f***ing threat, still. Mike Tyson, 50 (48-years-old), a threat. So don't underestimate a guy because of that. You're still as strong as you were when you're in your thirties, you're just a couple years wiser, a couple years older. That doesn't change s**t."
Slice hasn't stepped inside an MMA cage since his UFC 113 contest with Matt Mitrione back in May 2010. Slice lost the contest by way of TKO in the second round. Slice, however did earn a 7-0 boxing record since that time with six of those wins ending in a knockout.
Like his opponent, Shamrock hasn't competed in an MMA bout since 2010. In that fight, Shamrock injured his hamstring, giving Mike Bourke a TKO victory.
Bellator 138: Unfinished Business kicks off with the preliminary card at 7 p.m. ET on Spike.com. The main card will begin at 9 p.m. ET on Spike TV.