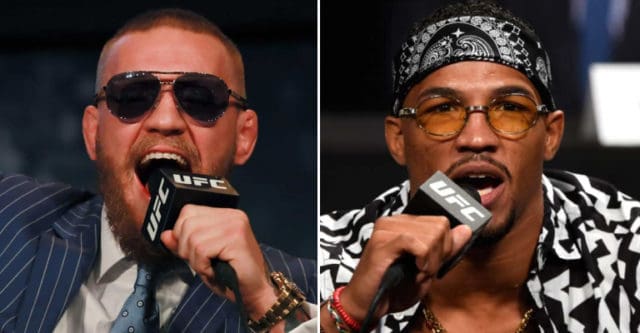 Conor McGregor's supposed MMA return remains one of the hottest topics in an MMA topic currently devoid of true pay-per-view-worthy stars.
Although many fight fans have seemed to grow at least somewhat tired of 'The Notorious" outside-the-cage antics as he holds the coveted UFC lightweight title hostage, there's also little question that those same fans would tune in to watch the biggest name in the UFC fight no matter whom it was against.
He's been rumored to face off with interim champion Tony Ferguson, who is currently on the sidelines after getting elbow surgery, and boxing legend Floyd Mayweather recently hinted at a UFC return – even though he ultimately shot it down – after beating McGregor in the boxing ring via 10th-round TKO this August.
With the MMA world awaiting any kind of news, recent interim title contender Kevin Lee revealed what he knew during a recent appearance on MMA Junkie Radio (quotes via MMA Mania), noting that he would most likely fight Ferguson but 'something crazy' could happen with Mayweather:
"Either that, or something crazy is going to happen there. But, at least I think everything that I've seen and all the little whispers that I've heard, he comes back, he fights Tony."
If and when the anticipated title bout does go down, Lee doesn't believe McGregor will be able to handle the experience of Ferguson after facing and losing to him at UFC 216. As for when "The Motown Phenom" said he's heard the fight will happen this March:
"I don't think he beats Tony. There ain't no way. Tony's going to be way too experienced, Tony's going to be way too tough… He's going to be too much for him. So I'm interested to see that fight. I wish they would just go ahead and make the damn fight happen already. I hear it's supposed to go down in March, so we'll see."
There's absolutely no doubt that a title unification bout between the two 155-pound champions would be one of the biggest fights the UFC could currently put on, and it would also go a long as to addressing McGregor's lack of title defenses throughout his entire MMA career.
But McGregor has seemed to love the wealth of fighting rather than actually fighting since fighting Mayweather, so he may be wanting an even bigger potential payday than the Ferguson fight would provide, namely against Mayweather in MMA or perhaps Georges St-Pierre.
Either way, the UFC needs McGregor back, so the sooner, the better. Can they corral their unpredictable star back into the Octagon in early 2018?
If you enjoyed this story, please share it on social media!