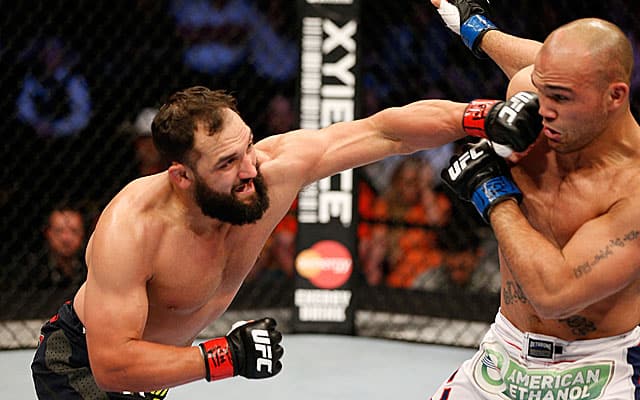 Johny "Bigg Rigg" Hendricks is set to take on Matt "The Immortal" Brown at this Saturday's (March 14, 2015) UFC 185, with the winner likely getting a shot at the welterweight title. However, the media doesn't seem to be asking about the importance of his upcoming fight, but rather about Hendricks' weight.
"Bigg Rigg" is a huge welterweight, who could even compete at middleweight if he chose to, and his weight has been an issue in the past. Hendricks actually missed weight the first time at UFC 171 last March, where he went on to beat current champion Robbie Lawler for the title. He also reportedly had a terrible weight cut at UFC 181, which may be the cause of the sluggish performance that ended up costing him the belt in his rematch with Lawler.
However, "Bigg Rigg" doesn't mind the questions about his weight. Speaking with MMAJunkie, the former champion actually said that it was a great question:
"I think it's a perfectly great questio. Why do you think I've done so much to get where I'm at? The weight has killed me. It made me think about what I want to do. I hit 180 yesterday, I hit 181 this morning. I've got a little over a gallon of water in me. It's a great question because it prevents me from showing up to my best ability."
Hendricks confirmed, however, that his weight issues are behind him. He claims that he feels better than ever, and after making some changes, he is leaner than he's ever been. According to the former champ, it was just about putting everything together:
"I think it's the best I've been, weight-wise and everything," Hendricks said. "Because when I used to do it on my own I would pretty much starve myself to make 170. I learned some things from Mike Dolce, how to do certain things, how to do this, how to prep your body for this weight cut, right? So I took what he's taught me and what I know from wrestling and I sort of pulled back and said, 'Hey, if we're going to sit here and point fingers at anybody, I want it to be on me.' And how do I prevent that? I prevent that by doing the right things, going out there, training, getting back in the weight room, lifting, everything. And everything feels a lot better.
Hendricks, despite admitting that it was a tough process, claims that he's expecting his best performance to date this weekend:
"Don't get me wrong, it sucked during the camp because I didn't lose one workout and I added in four more workouts. At 19, now I'm at 23, then you add in runs everyday. But I think it's going to be the best performance, I'm hoping, that I can do in the octagon."
Do you see Hendricks getting the job done this weekend against Brown?