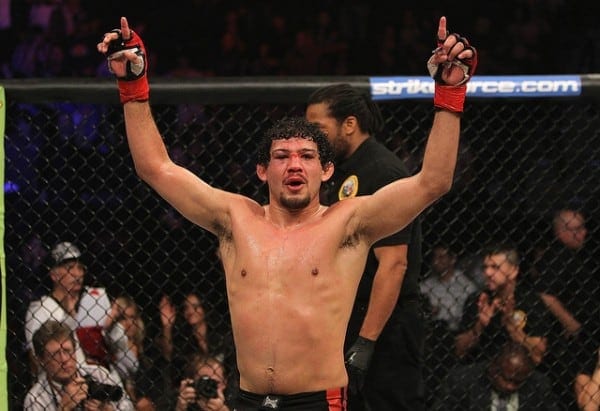 Gilbert Melendez will once again have a shot at UFC gold when he steps into the Octagon to face returning champion Anthony "Showtime" Pettis in the co-main event at UFC 181.
Since coming to the UFC in 2013, Melendez is only 1-1. He dropped a very close split decision loss to then champion Benson Henderson at UFC on FOX 7 in April 2013. He then scored a unanimous win over Diego Sanchez in a "Fight of the Year" candidate at UFC 166 in October 2013.
Having only one UFC win over an aging and struggling Sanchez, some would even argue that Melendez doesn't deserve a title shot. Prior to coming to the UFC, "El Nino" was the Strikeforce lightweight champion and hadn't lost since 2008. He beat some decent competition during his run as champ, but current lightweight king Pettis is more than just a decent opponent.
So does the California native have a chance against "Showtime" this Saturday night (December 6, 2014)? In my opinion, I would have to say his chances are slim.
When it comes to the striking department, I believe Pettis is leaps and bounds ahead of Melendez. The champion may be the very best striker in the division with his flashy style that features a plethora of deadly kicks. This style combined with his quickness make Pettis a force on the feet, and I don't see a way "El Nino" has any success if the fight stays standing.
When it comes to grappling, Melendez may have the advantage in the wrestling department, but once on the ground the two men may be virtually even. Pettis obviously likes to keep things on the feet, but the champion has shown great progress in his Brazilian Jiu-jitsu game. Melendez is also no slouch on the ground, as he is a black belt under Caesar Gracie.
If "El Nino" has any chance in this fight, I would say it would be to submit "Showtime. However, I don't necessarily see it happening.
One interesting fact when comparing each combatant is each man's fight against former lightweight champion Benson Henderson. Melendez took on Henderson in his UFC debut and although many thought he should have been given the decision, it was a very close fight. "El Nino" did not dominate "Smooth" in any sense of the word.
The same cannot be said for Pettis. Pettis took the belt from Henderson at UFC 164 in August 2013, and only needed four-and-half minutes to get the job done. "Showtime" repeatedly smashed the former champ's body with kicks and ultimately locked in a slick arm bar to finish him.
If these performances are any indication of what will go down this weekend, I see Pettis dominating Melendez rather quickly. Not to take anything away from Melendez, who has proven he is a top fighter in the lightweight division, but I just don't see too many ways he can win this one.
"El Nino" will have to hope that Pettis is rusty coming off of a long layoff due to injury, and if not, I see it being a short night for Melendez. Who do you think will win the long overdue lightweight title fight?