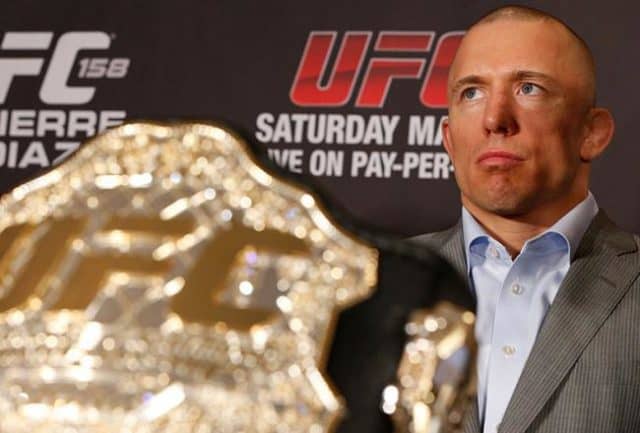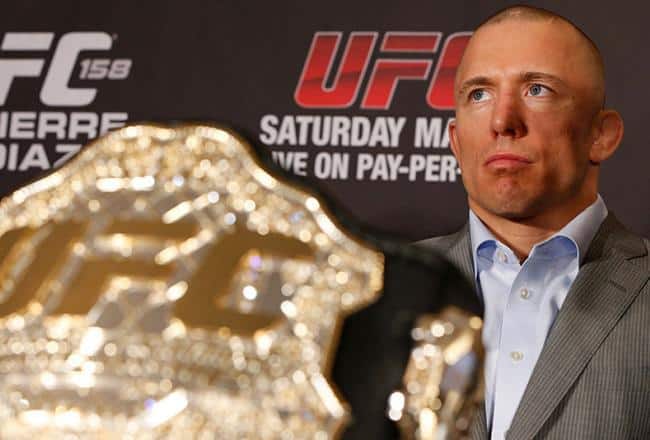 Former UFC welterweight champion Georges St-Pierre is back. After taking time off as an active MMA competitor, "GSP" is set to challenge for the UFC middleweight championship against Michael Bisping at UFC 217 in November.
This fight might not be a super fight in the eyes of the MMA community, but it has been a fight that has been talked about a ton as some fans like it, and some do not. It's a valid question to ask how St-Pierre will look after a four-year layoff from the sport.
St-Pierre spoke with The New York Post earlier this week to discuss his comeback and upcoming bout. According to GSP, feels like the UFC's drug testing program took a burden off his shoulders.
"It's a different set of rules now, I was fighting against a whole system back in the day," St-Pierre said. "I was very outspoken about the drug problem that we had, people made fun of me, 'ahhh, he's a paranoid guy, he says that as a way to go and retire.' But look what happened now … a lot of the UFC champions have fall to the performance enhancing drugs, getting caught."
St-Pierre made it known that although he may say that he's mentally rejuvenated, he is holding himself to do-or-die standards, which makes him feel that his fight with Bisping a "win or go home" scenario.
"If I ever lose, I'm retired, it's finished for me. I'm one fight away from retirement," St-Pierre said. "I don't plan on losing but if I do, it's finished."
UFC 217 is set to take place on Saturday, November 4th in New York at Madison Square Garden. Cody Garbrandt vs. T.J. Dillashaw for the UFC bantamweight title is expected to serve as the co-main event. The UFC will be adding more bouts to this card, and it will likely be stacked. The main card will air on pay-per-view while the preliminary card will air on FOX Sports 1 and the promotion's streaming service, UFC Fight Pass.
If you enjoyed this story, please share it on social media!