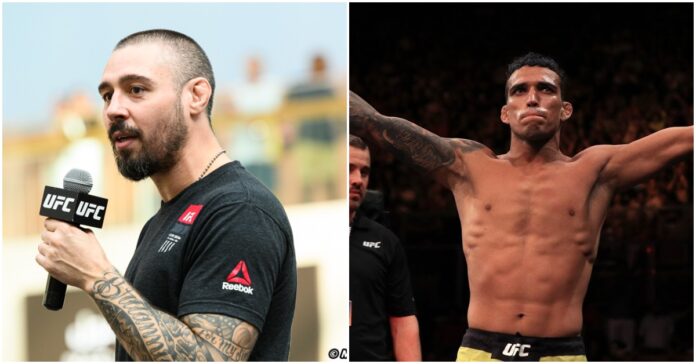 Dan Hardy believes that Charles Oliveira is the better all around fighter and leans toward Oliveira retaining his title against Dustin Poirier at UFC 269.
Oliveira has his first title defense against Poirier, who many believe may in fact be the best fighter in the division. In fact, so many believe that Poirier will come out of the fight victorious and the new champ. While many are discounting Oliveira's skill, Hardy on the other hand is finding it hard to bet against the very well rounded Oliveira.
During his nine fight win streak inside the lightweight division, Oliveira has done a great job of mixing things up. He has won five fights by submission and 3 fights via TKO/KO. He is one of the most well rounded fighters in the entire promotion. He obviously has some impeccable timing to go with his power, as he was able to finish Michael Chandler. Justin Gaethje landed a ton of bombs and was unable to finish Chandler.
Dan Hardy was on 'Submission Radio' when he sounded off on the fight between Oliveira and Poirier
"When my breakdown show went up, there were a few comments about people saying 'finally someone that's not underestimating Charles Oliveira…"I just think skills-wise, Oliveira is a better martial artist all around," Hardy said. "Whether Dustin Poirier can apply it better because he's been swimming in this top pool for a bit longer, I don't know. But I've seen no reason to believe that Charles Oliveira won't be champion by the end of the fight. It wouldn't surprise me if he's able to back Poirier up against the fence and beat him up a little bit, and then catch his neck on the way in. Something like the Kevin Lee fight." (Transcribed by MMA Junkie)
Hardy also isn't counting 'The Diamond' out of the fight either. He did acknowledge that he is battle tested and one of the best in the division. Hardy just believes it will be a difficult task for anyone in the division to take the belt from 'Do Bronx' because of how well rounded her truly is.
Do you agree with Dan Hardy? Does Charles Oliveira retain his title at UFC 269?