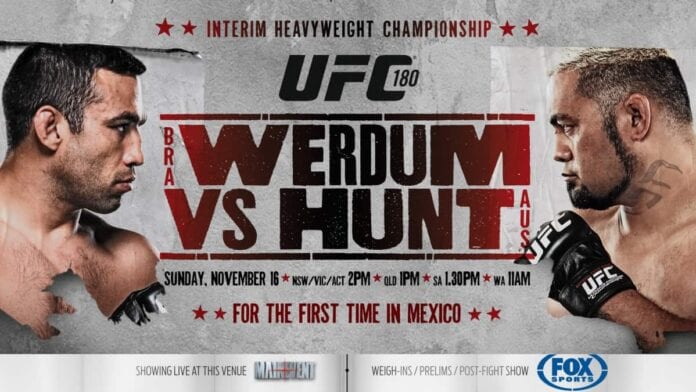 With this weekend's UFC Fight Night 55 and 56 doubleheader in the rearview mirror, the focus of the MMA world will shift to this upcoming Saturday's (November 15, 2014) UFC 180 pay-per-view (PPV) from Mexico City, the first-ever UFC event on Mexican soil.
The card was expected to showcase Mexico's favorite MMA son, UFC heavyweight champion Cain Velasquez, but he was forced to pull out of his scheduled bout with Fabricio Werdum due to a knee injury suffered in training.
In his place stepped power-hitting fan favorite Mark Hunt, who just recently knocked out Roy "Big Country" Nelson in the main event of September 20's UFC Fight Night 52 from Saitama, Japan.
The anticipated bout may not be as high profile as Velasquez vs. Werdum, but MMA fans around the world have wanted to see Hunt fight for a UFC belt for years now. It may be of the interim variety, but this is going to be an exciting bout in an electric atmosphere.
It presents a stark contrast of a knockout striker against a world-class submission artist, as both Hunt and Werdum may be the best in the world at their respective talents. Not surprisingly, they have some different training methods. Watch Hunt and Werdum prepare for the biggest fight of their MMA careers in the all-new Countdown to UFC 180 below: