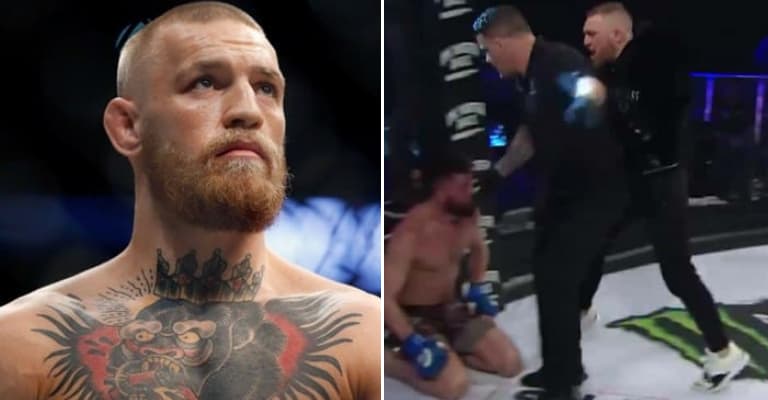 The UFC may have delivered a hard-hitting, under-the-radar event with last Saturday's (Sat., November 11, 2017) UFC Fight Night 120 from Norfolk, Virginia, but the overall focus of the mixed martial arts (MMA) world was Conor McGregor's all-out melee at Friday's Bellator 187 from Dublin.
The UFC champion caused a chaotic scene when after teammate Charlie Ward beat fellow Irishman John Redmond, the MMA megastar rushed into the cage for an extremely aggressive celebration with Ward before shoving referee Marc Goddard and slapping a security guard.
Any potential punishment remains to be seen, but McGregor finally addressed the controversy (sort of) earlier today on Twitter before quickly deleting it. Check out his response courtesy of The MMA Bible here:
McGregor tweeted this earlier regarding the weekend's incident and then deleted it pretty much straight away…#McGregor&Goddard#Bellator187 ???????? pic.twitter.com/JEVan3yroN

— The MMA Bible (@TheMMABible) November 13, 2017
McGregor not surprisingly took a standoffish position in his brief reply, sticking to his stance that Goddard was trying to let the bout go on even though it was clear Redmond was badly hurt.
While that may be understandable, it was still an unnecessary and over-the-top reaction that could see McGregor suspended and fined. Considering the two athletic commissions he's licensed in (Nevada and New York) didn't oversee the bout in another country, don't be surprised if he isn't as well.