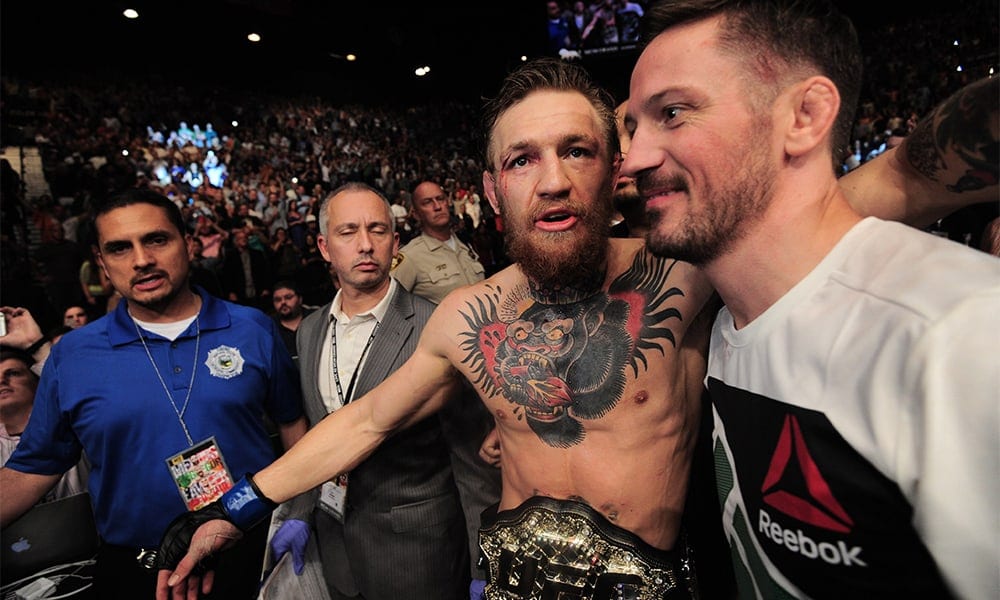 Accused of being held hostage by Conor's McGregor 14-month inactivity, the UFC lightweight division got at least some degree of clarity when this week UFC president Dana White revealed interim champion Tony Ferguson would face top-ranked contender Khabib Nurmagomedov at April 7's UFC 223 from Brooklyn, New York.
Not surprisingly, White wouldn't say if the bout would be for the undisputed 155-pound title after the UFC stripped 'The Notorious' as had been rumored the night before.
So even though the UFC said they would 'absolutely' strip their biggest name of the belt, it's probably not in their best financial interest to do so. They can have an unprecedented fourth attempt at booking Ferguson vs. Khabib, and perhaps it will finally happen to deliver a nice pay-per-view haul that would set up a truly monstrous unification bout with McGregor.
As we've seen, there's far from anything close to a guarantee that it will, however, and McGregor's head coach John Kavanagh is well aware of that fact. During a recent Facebook live interview (via MMA Fighting), the Straight Blast Gym coach said he wouldn't be surprised if it didn't happen because Nurmagomedov's grinding top-control style comes with a high price:
"I do think there is a really high risk of it not happening. It's been scheduled twice and it has not happened twice.

"It's very impressive what Khabib can do when he is fighting, just that pace he has and the relentless pressure, but it does require you to train in a certain way that brings on injuries. There is a reason why he is averaging one fight or less over the last couple of years because of multiple surgeries and so on. He's got a lot of miles on the athletic clock. I would almost see as there being a high likelihood of one pulling out before the fight happens."
Kavanagh went on to assume both fighters did make it and predicted Nurmagomedov would get through some adversity to wear down 'El Cucuy,' but wouldn't have the stopping power to finish the fight just as he didn't in his dominant unanimous decision win over Edson Barboza at December 30's UFC 219:
"Let's assume both get through their training camps, they're both healthy, it happens and it's five rounds. I think Tony will have some moments in the first round or two where he gets close with some guillotines or triangles, but I think Khabib powers out of them and wears him down as he does.

"I don't think he really has the stopping power to finish him. His victory over Barboza was very impressive and so one sided, but he didn't really break him up. His face wasn't bashed up and rearranged, it was more just the volume of shots and guard passing and so on. I think that would start to wear on Tony and he'd start to steal rounds with takedowns. Yeah, Khabib by unanimous decision."
The specter of the popular Irishman would always loom large over the division even if the UFC does decide to strip the title from him according to Kavanagh. That dynamic, he said, will loom large no matter how UFC 223 is sold.

And with the "Notorious'" shadow hanging overhead, his coach claimed the winner of Ferguson vs. Nurmagomedov would always have to face the Irish star to be called the true champion:
"I think regardless of what way it's sold, I think it's still going to be known who the champion is. I know that's going to upset a lot of people, but there you go, that's my opinion on it.

"If it happens that those guys fight each other, and if it happens for the belt, they're both going to think to themselves, 'I've got to beat Conor to be really seen as the champion.'"